In November of 2002 the Syfy channel aired a 2 hour documentary called, "The Roswell Crash: Startling New Evidence". This documentary was filmed earlier in September at the famed "debris site" where in July 1947 Mac Brazel and his son Vern found some very unusual material.
See "Roswell UFO Archeology Dig 2002" blog on this site for more info on that dig.
On the last night of the 2002 dig taping, Dr. Doleman and I had a very animated (to say the least) discussion around 1:00am outside a restaurant in Roswell. You see the previous five days volunteers working with the archeologist's, dug holes far too deep to find artifacts which could have been buried back in 1947. Debbie and I found that not only strenuous and very unusual, but a waste of valuable volunteer resources. Numerous times confronting Dr. Doleman about these ridiculous procedures during the dig, he and we were bound by the Syfy channel and the UFO museum's directions. The late night conversion between me and Dr. Doleman (which included a lot of venting on my part) exploded with me elaborating on the senseless use of human assets we had been a part of. We were there looking for wreckage from a possible crash from 1947, but the depths of our digs were far too deep going back 1000's of years. What the hell!
Solution? My recommendation was to do a strip dig, something I learned while working the Raven archeology site in Arizona looking for Anasazi artifacts. Proposed to Dr. Bill in the wee hours of the morning, my request was to go back to the debris site a few hours later and run my own dig. The Syfy channel and representatives of the UFO museum would be elsewhere filming that day, and the University of New Mexico's archeologists would be there finishing up their work at the site. Dr. Bill agreed but was unsure whether or not me and my sister would come through with our proposal. Well six hours later Debbie and I were waiting eagerly at the meeting location in Roswell and followed the archeologists back to the site. (Which is about a 2.5 hour drive.)
Once back at the site, Debbie and I sat with Dr. Bill and asked, "Based on erosion since 1947, where is the best area material could settle over that length of time?' Now this is where Dr. Bill shined. Using his knowledge of archeology, looking at the topography of the land, and using information from the stories of eye witnesses, he found us a prime location. As for the further relationship between me and Dr. Doleman, today we are very good friends and I'm honored to have been able to work with him not once but twice.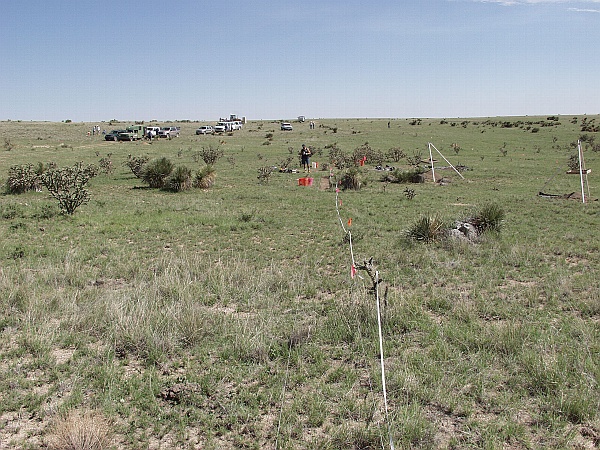 This is the location Dr. Bill Doleman mapped out for us to run our strip dig.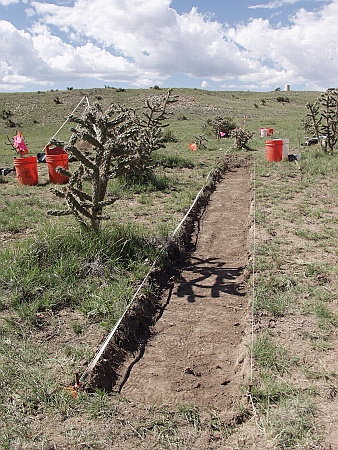 The strip dig was approximately 5 meters by 1 meter increment strips, digging no more than a 10 centimeter depth. The 10 centimeter depth was Dr. Bill's best guess based on erosion build up since 1947. This strip dig, one day after we were to originally leave Roswell, yielded the most artifacts for a single dig. Our strip dig also found the most compelling artifact which resembles the material Mac Brazel described and the material Dr. Jessie Marcel Jr saw when he was a child.
The following is the analysis of our artifact.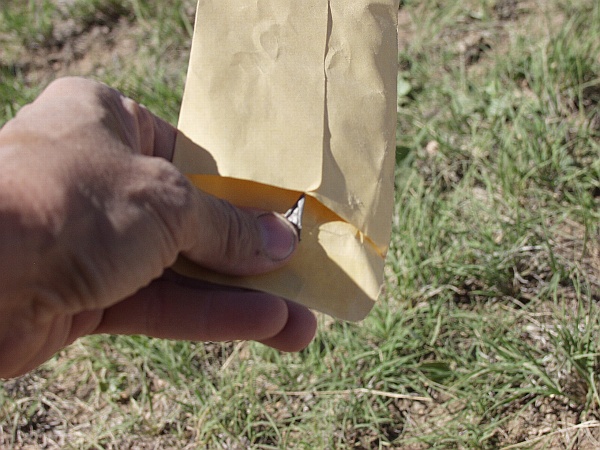 The artifact was silver and slightly metallic in color. It was about the size of a finger nail, very thin and light weight. It appeared to be a thin metal or Mylar type material. It was so light weight, that Debbie had to hold on to it tight, so it wouldn't blow away.
The artifact was found by my sister while sifting the dirt I was digging. Due to her years of research in the Roswell incident, Debbie obviously knew what she was looking for and luck was on our side that day. After taking pictures of the item, we recorded and tagged it with the University of New Mexico.
The Syfy channel did pay for a quick visual analysis on this piece and other proposed artifacts found, but never followed through with further analysis. Their estimated $25 visual analysis for this item suggested it resembled the plastic backing material of duct tape. There was never a confirmation analysis on the lab's suggestion. Well this bothered me and Debbie, why? Well we were the first to handle the artifact and it felt more metallic than plastic. We wanted more answers and more analysis. Thus a quest started.
Roswell's, International UFO Museum and Research Center and their investigators Don Schmitt and Tom Carey would have nothing to do with further analysis of the artifact. They were (and still are) convinced it's of no significance. Well I beg to differ. In 2008 I submitted a request to borrow the artifact from the University of New Mexico's archeology storage facility to run my own analysis. The following are my previous and current results.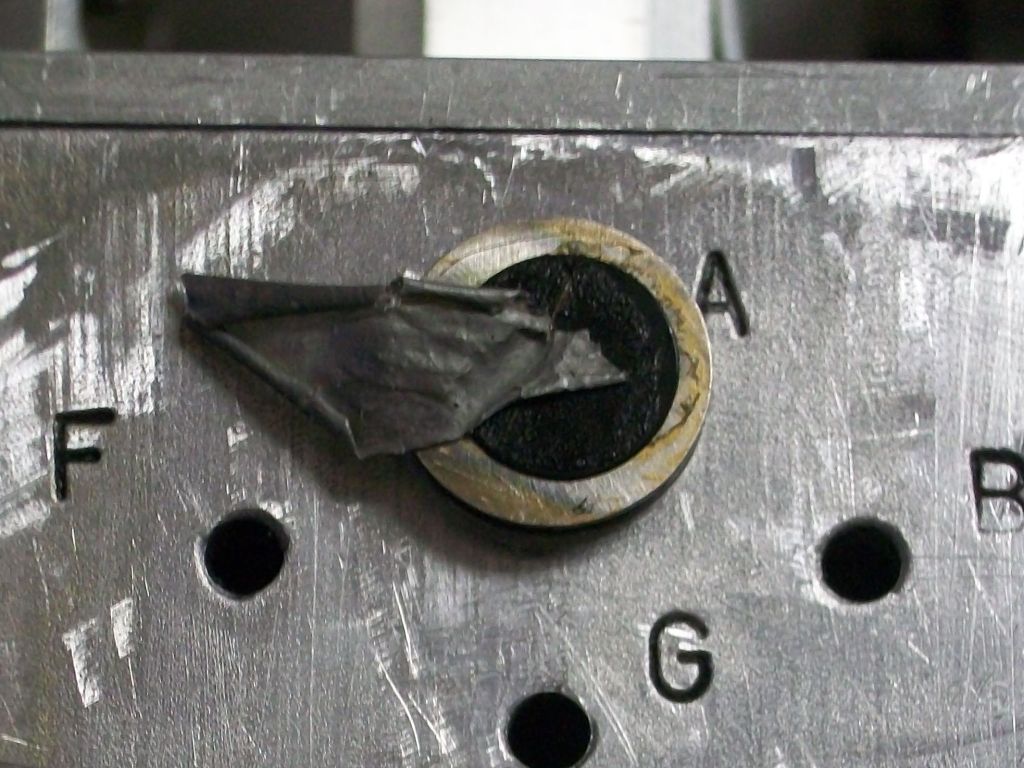 In 2008 I had a (SEM) Scanning Electron Microscope Analysis done on the artifact.
Wikipedia: A scanning electron microscope (SEM) is a type of electron microscope that images a sample by scanning it with a high energy beam of electrons in a raster scan pattern. The electrons interact with the atoms that make up the sample producing signals that contain information about the sample's surface topography, composition, and other properties such as electrical conductivity.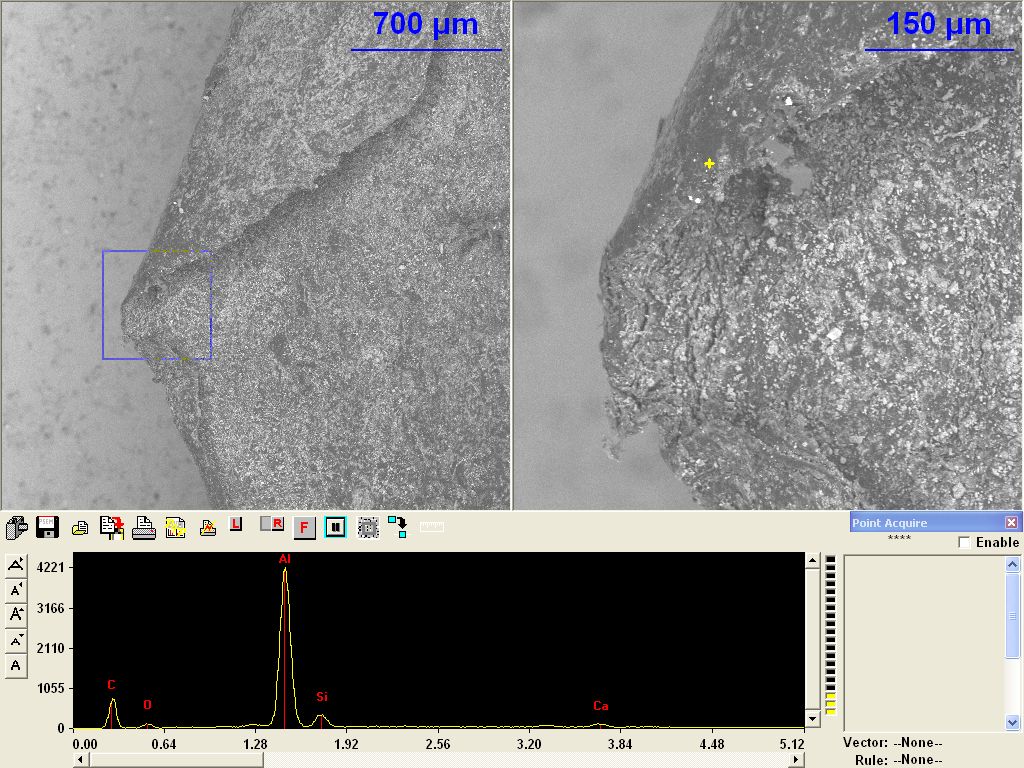 The SEM provided us with data showing the artifact was much more than what Roswell's UFO museum and their investigators had brushed off.
The image on the left at 700 microns (1/1000 of a millimeter, or 0.001mm) shows a box in which the SEM is looking at a unique area. The image on the right shows a very faint yellow cross hair. This cross hair is the exact spot the SEM is sampling the material for analysis.
This image shows a very strong hit of aluminum with elements of silicon, calcium, carbon and oxygen.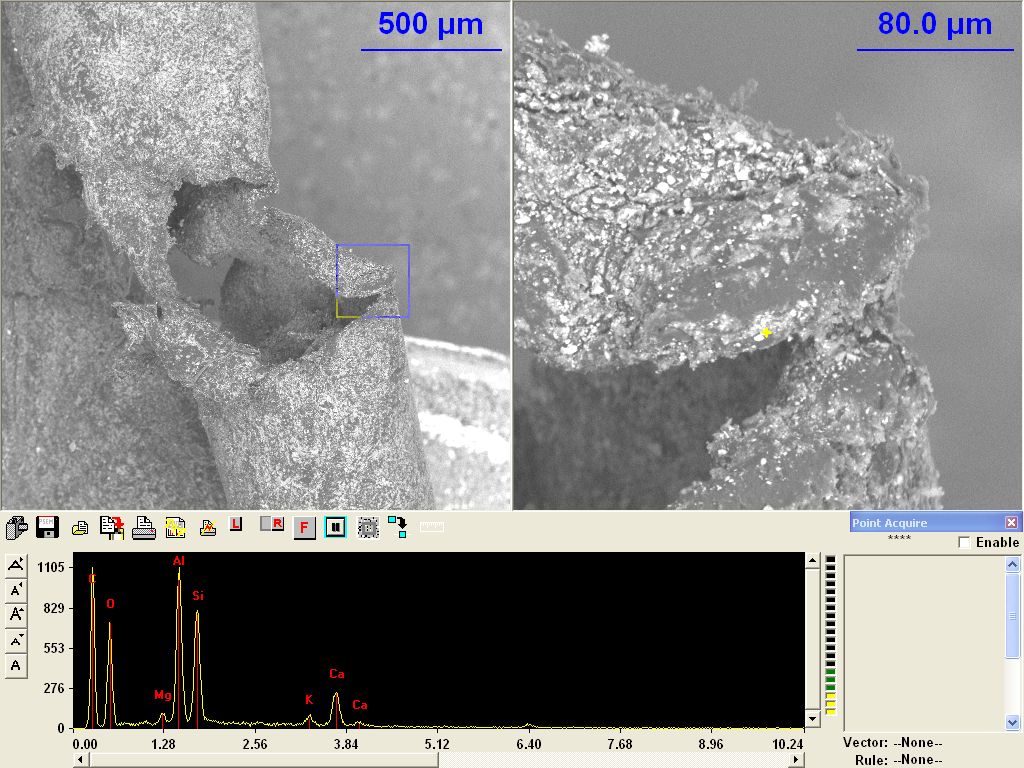 This much closer image at 80 microns shows stronger hits of elements, aluminum and silicon. Carbon and Calcium are generally related to human intervention and oxygen is picked up by the SEM from ambient air. Potassium and Magnesium are starting to show up at this very extreme magnification.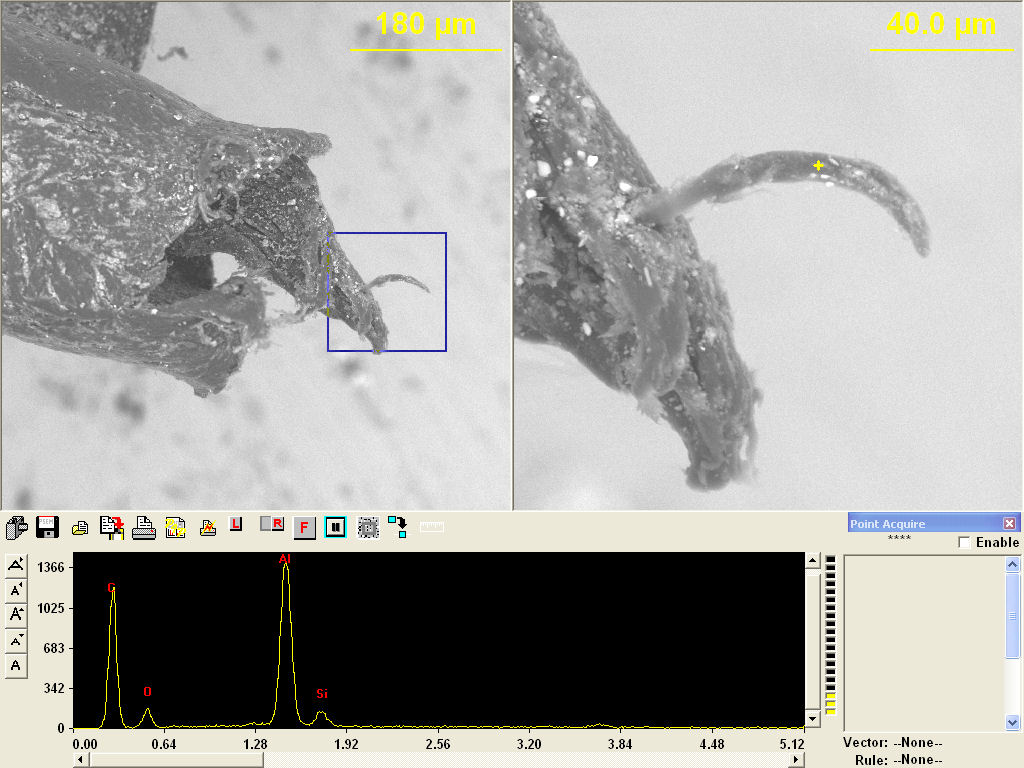 At a much closer examination, 40 microns, you can clearly see elements of Aluminum and Silicon are being picked up from the unusual hair-like strand protruding from a microscopic damaged area.
Two separete SEM analysis done by me within a 60 day period utilizing two different versions of SEM software yielded the same results.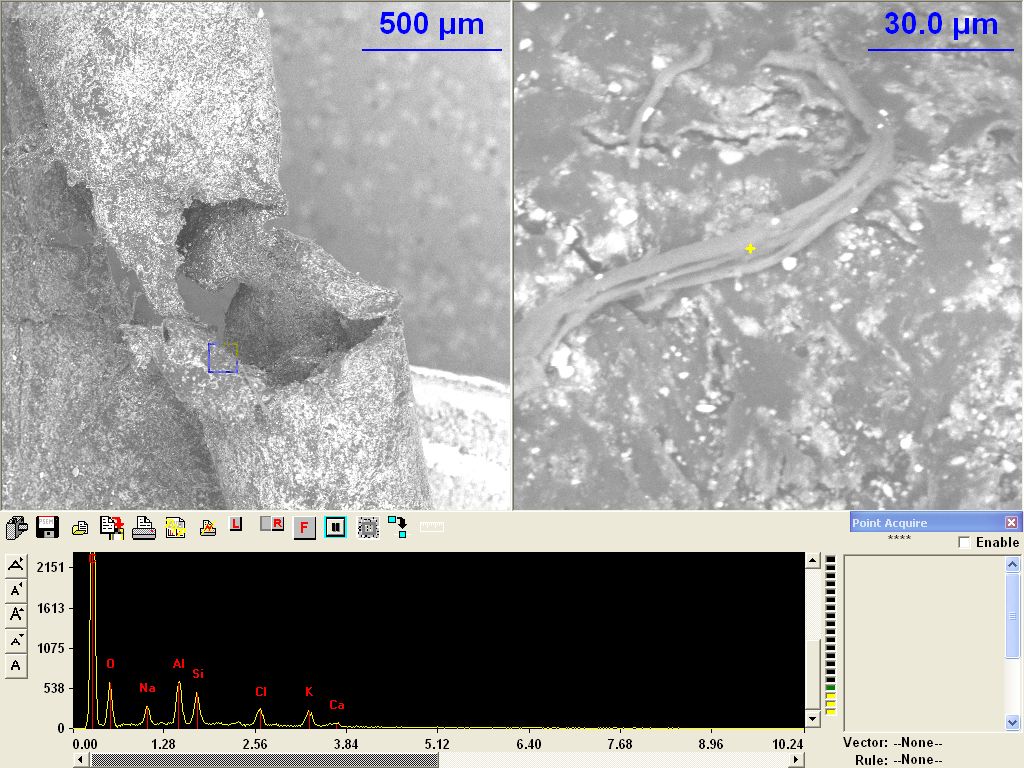 This photo shows something very unusual. A strand of "what"? The SEM yellow cross hair (to the right) sits right on this unknown strand. Elements which were picked up were, Carbon, Oxygen, Sodium, Aluminum, Silicon, Chlorine, Potassium, and Calcium. Is this biological at a mere 8 microns wide? Not sure, the jury's still out on this one.
The conclusion? This doesn't appear to be backing material from duct tape.
Now it's time for further analysis. In 2009 Debbie and I with Dr. Bill Doleman, orchestrated a press release from the city of Roswell asking for outside help from a lab to further our analysis.
News coverage of press release…
One year later in July, I arranged a conversation between BAAS (Bigelow Aerospace Advanced Space Studies) and the University of New Mexico's, Maxwell's Museum of Anthropology. The following emails represent our conversations:
To: (name on file),
Sir, my name is (name on file) and I am a Program Manager at BAASS, LLC. I was asked by Mr. Chuck Zukowski, through Dr. Bill Doleman, to contact you regarding our desire to obtain one of the artifacts maintained at UNM for scientific/laboratory testing. I believe Mr. Zukowski has discussed and identified the specific artifact during previous conversations.
Our testing will be conducted to determine if there is any significant scientific value of the artifact, as we are focused on advanced aerospace technologies.
The lab/company that will be conducting the initial testing is (lab name on file) in Austin, TX. The initial testing will be XRF non-destructive analysis. Further testing requirements will be determined after analysis of the XRF results.
If there are other matters in which I can be of assistance, please do not hesitate to ask. Of note, I will be out of the office until Monday, July 26.
We look forward to acquiring the artifact for analysis.
Very Sincerely,
(name on file)
Program Manager
Bigelow Aerospace Advanced Space Studies
Note: I generally use (name on file) to protect the identity of individuals whom I don't have full permission to post their names.
Further conversations between the Maxwell museum and BAAS initiated a proposal by me and BAAS which was presented to the directors of the museum asking to release a piece of the artifact for analysis. Permission was granted by the board, and the wheels started to roll.
On November 9th, 2010, the Maxwell Museum of Anthropology has a record showing FedEx delivered a piece of the artifact to BAAS. After numerous email exchanges between me and BAAS, on March 25 I received a preliminary analysis from them.
********************
From: BAAS (name on file) Sent: Friday, March 25, 2011 3:13 PM
To: 'Zukowski'
Subject: RE: Roswell Artifact Update?
Here is the preliminary study, there is currently a discussion on whether to continue with isotope analysis. I will let you know the
outcome.
********************
Analysis of Roswell Crash Site Samples
Our x-ray fluorescence (XRF) system consists of an X-123SDD Silicon Drift Detector and a 40 kV Mini-X x-ray tube made by the AMPTEK Corporation. The detector has an energy resolution of 136 eV FWHM at 5.9 keV. This system permits non-destructive identification and semi-quantitative analysis of all elements heavier than Si in a wide variety of samples including liquids, powders, and solids.
We typically perform the analysis in air, meaning there will be a significant peak from argon in all of our spectra.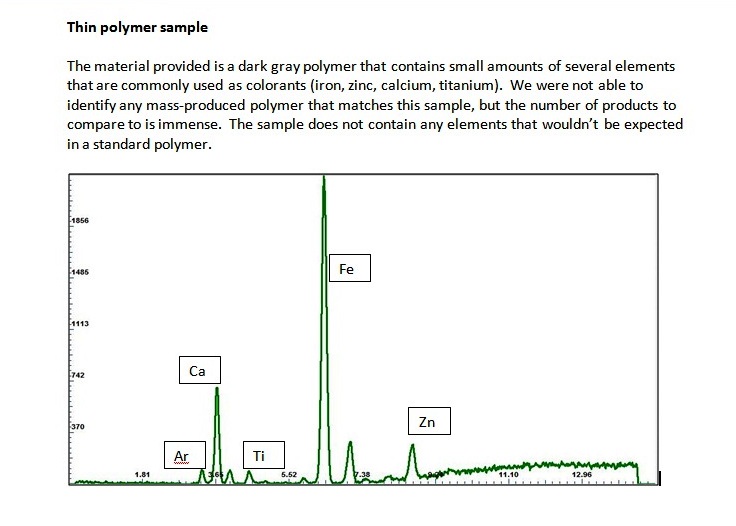 The material provided is a dark gray polymer that contains small amounts of several elements that are commonly used as colorants (iron, zinc, calcium, titanium). We were not able to identify any mass-produced polymer that matches this sample, but the number of products to compare to is immense. The sample does not contain any elements that wouldn't be expected in a standard polymer.
From: Zukowski [mailto:zukowski@ufonut.com]
Sent: Sunday, March 27, 2011 7:06 PM
To: BAAS (name on file)
Cc: Zukowski
Subject: Re: Roswell Artifact Update?
Thank you for the preliminary study. I'm curious as why aluminum did not show up as one of the elements. I had two separate electro scanning microscope analysis done on the artifact and picked up high concentration of aluminum. (see attached) Any thoughts?
chuck
********************
From: BAAS (name on file)
Sent: Monday, March 28, 2011 11:07 AM
To: 'Zukowski'
Subject: RE: Roswell Artifact Update?
Yes, I was curious too….I am checking into it.
BAAS
********************
From: BAAS (name on file)
Sent: Wednesday, April 13th, 2011 12:05
To: 'Zukowski'
Subject: RE: Roswell Artifact Update?
Chuck,
The lab replied as follows:
"As stated in the description of our XRF system, we are capable of reliable analysis of only those elements heavier than Si because we operate in air and use a Mylar window. Unfortunately, aluminum is at the ragged edge of our detection limit. Under favorable conditions (such as with a large specimen that is a majority aluminum, i.e., an aluminum alloy like 6061), we are able to see a small peak to indicate the presence of the element. With the sample tested, not only the size but the relatively small quantity of aluminum, we would be unable to detect its presence".
Thanks
********************
From: Zukowski [mailto:zukowski@ufonut.com]
Sent: Thursday, April 14, 2011 7:42 AM
To: BAAS (name on file)
Subject: Re: Roswell Artifact Update?
Do you know when I will be able to get the full analysis?
Chuck Zukowski
********************
From: BAAS (name on file)
Sent: Monday, April 14, 2011 9:56 AM
To: 'Zukowski'
Subject: RE: Roswell Artifact Update?
Chuck,
I know the lab had scheduled a discussion on whether or how to proceed with another analytical step. Because of rather severe travel schedules, I do not believe that that discussion has happened. I will let you know when I hear back.
Thanks
BAAS (name on file)
********************
No further emails have come from BAAS.
Thoughts?
It was unfortunate their lab was only able to verify elements heavier than silicon and aluminum which kept them from verifying my results from the SEM. The most significant description of their lab analysis was, "We were not able to identify any mass-produced polymer that matches this sample." This statement throws a giant wrench in the beliefs of the investigators from Roswell's International UFO Museum and Research Center which still think this artifact is associated to duct tape. A polymer used in common duct tape would be an easy match, and BAAS's lab would have picked up on that.
At this time I have not received any further reports from BAAS, nor has the Maxwell museum. I copied all my email conversations between me and BAAS to the Maxwell museum for archival purposes. The question remains; Why has BAAS stopped all communication with me and the museum? I can only speculate but won't make any assumptions on this blog. I applaud BAAS for stepping forward and running the analysis free of charge and hope they will complete my request. Until then, all we can do is wait.

Category: Chuck Zukowski, Debbie Ziegelmeyer, Jesse Marcel Jr, Roswell, Roswell Dig, The Z-Files