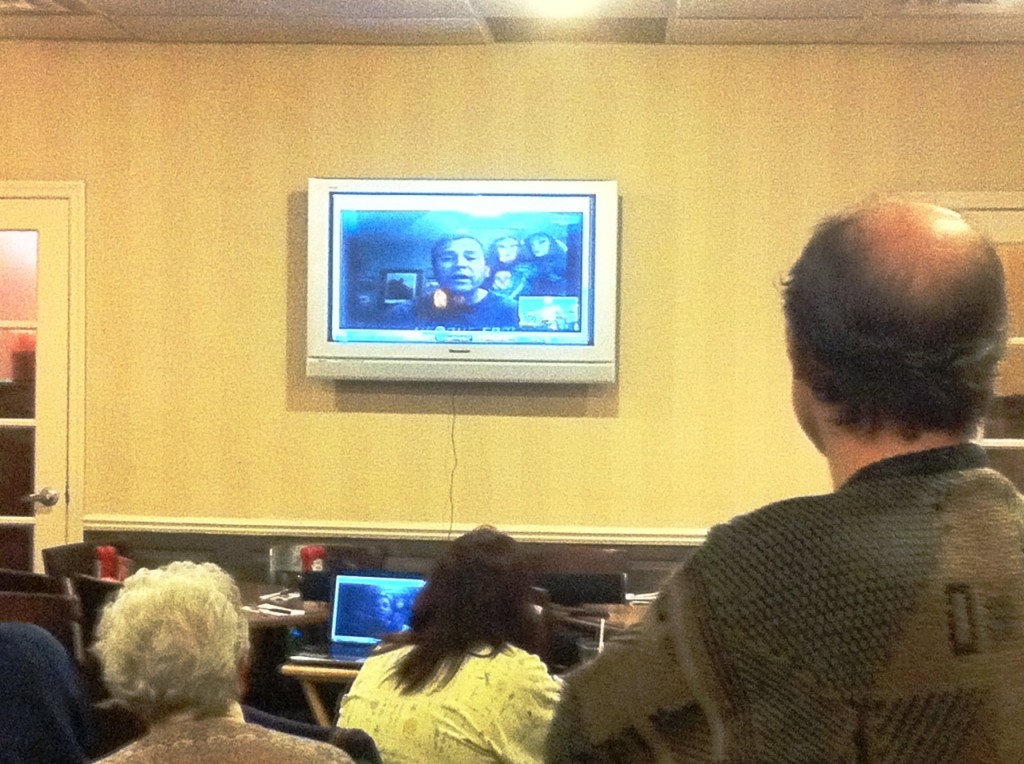 On February 15th 2012 my sister Debbie and I pulled off a very successful internet lecture via Skype. If you don't know what Skype is, you may want to check it out. The basic service is free which includes Skype audio and video calling to contacts on your list. Conference calling and more advanced features are not free, but well worth it, if need be. Most people including me, use Skype to video call friends and family from time to time, especially during the holidays.
But what about using Skype for instructional purposes? What about using Skype for lectures? This was something Debbie and I had wanted to try for some time now, and it wasn't really that difficult. First you need high speed internet on both ends, then an internet camera either on your computer or a stand-a-lone, and finally an audience. It was that simple.
Sitting here in my office in Colorado while Debbie was orchestrating her monthly MUFON meeting in Missouri, she simply, called me.. or uh.. Skype'd me. (gotta get the lingo right) I had two monitors running on my laptop, so I was able to run my Power Point presentation on one monitor while monitoring the audience video feed to me on the other. You can do it with one monitor, I'm just a geek. There's a cool little option on the bottom of the Skype window menu which allows you to change the video feed from looking at you, to what's playing on your monitor. If it's a Power Point presentation, then the people you're Skype'ing to, will see your presentation and not your mug, and will still hear the audio of your voice. It's that simple. You just walk through your Power Point on your computer and talk into your video camera's microphone. After the lecture, just simply change the option in Skype to return to your video camera, so during Q&A you can see and hear the audience and they can see and hear you.
Now I know some who are reading this are saying, "No big deal, I've been doing that for a couple of years now." True, I've been Skype'ing for the past couple of years too, but shame on me for not Skype Lecturing. And this is why..
There are UFO/Paranormal groups meeting in restaurants, community rooms, library's, and homes monthly, all over the country and other countries as well. The one problem the hosts have running these meetings, are getting guest speakers to attend. The majority of gatherings are running on a shoe string budget, with barely no money at all. Most of them talk about sightings and what not towards the beginning of the meeting, then usually run a video towards the end. They simply don't have the budget to fly a speaker out, put him or her up in a hotel for the night and pay their expenses.
But what about using available technology?
Most restaurants and libraries have free WIFI available which is a wireless internet network for your computer. All the host needs to do is find a meeting place or home which has this system for use, then simple research their favorite speakers who also has high speed internet at their home. Then both the host's computer and the speaker's computer downloads the free version of Skype, if they don't already have it. Next set up a login account, then send each other contact requests. It's a little confusing at first for the new-bees, but Skype's help section is full of on-line guides which will walk you through it.
Ok I talked about Skype, so what type of system do you need? What works?
Well you need a computer with a minimum 1 GHz CPU, at least a 32MB graphics card, and at least 256 MB of memory. For lecturing I would recommend 1.8 GHz CPU, 64MB graphics card, and 512 MB of memory. Anything larger is a plus. Next you have to download the Skype software, Skype 4.2 software for Windows or higher, and Skype 5.0 for Mac or higher. You can also use a TV which is Skype compatible. Next you need a high-speed broadband connection, a web camera (either built in to your laptop or a stand-a-lone), a microphone (which usually comes with the web camera), and auxiliary powered speakers so your audience can hear the lecture. Finally your audience will need to see the speaker, so a video projector or large flat screen monitor will help.
Most commercial WIFI systems are high speed, so the only challenge is to find a speaker who has high speed at home. Why does it have to be high speed, well Skype documentation states video calling (high-quality) should be at leas 500 kilo bits per second speed. If you want to transfer HD quality video, then you should have at least 1.5 Mega bits per second speed.
Why do you need higher internet speeds? Because you're data streaming audio and video signals simultaneously. That's a lot of data to push through the telephone lines. Slower systems will result in video chopping and and audio dropping which would hinder an online lecture's professionalism.
Now let's talk about guest lecturers.
Start with people you may personally know at first until you get comfortable with the technology and get all the lecture type bugs out of the system. Then I would go after those individuals in the industry who may be pushing a new book or promoting an event they will be speaking out. Ask them for just 30 minutes of their time to promote their book or promote their event. Usually they'll speak longer. Also remember your guest speaker needs to get something out of it too, especially if they are doing it for free. Generally a large audience or an on-line news letter promoting them and their book or event will do the trick.
Next you can tackle large "Skype Conferences" which I've been looking into. These type of events involve professional audio video hardware which project your speaker's image on large screens in front of equally large paid audiences. These type of lectures have been going on in the corporate industry for years, but now affordable technology has brought it to the end user. You and me.
Anyway, something to think and ponder about, and an easy way to see your favorite speaker without having to travel or spending large amounts of money during a very distressed economy.
Category: Chuck Zukowski, Debbie Ziegelmeyer, Media Appearances, The Z-Files