Brian Ladd's website claims he's known as the worlds most accurate psychic with over 2,500 documented predictions, 149 correct lottery predictions and 976 missing person cases since 2005. Evidently he has dream predictions then records them in sketch format and posts the results on his website. I've never heard of Brian Ladd until January 22nd, when a good friend of mine David Wisbey notified me about one of his latest predictions. This particular prediction, case number 5423 happened on January 20th and involved my sister Debbie Ziegelmeyer. Debbie is not only part of the UFOnut team, but she's MUFON's State Director of Investigations for Missouri and is also on MUFON's Board of Directors. When I found out Brian Ladd had a dream prediction that might involve my sister's safety, I needed to learn more and went to his website. The following was listed under January Predictions.
June 14th 2014 – June 12th 2015 almost kills her, FBI holds Debbie Ziegelmeyer with no charges, 219 3 years, no one knows where she is.
The following is his dream sketch of the prediction.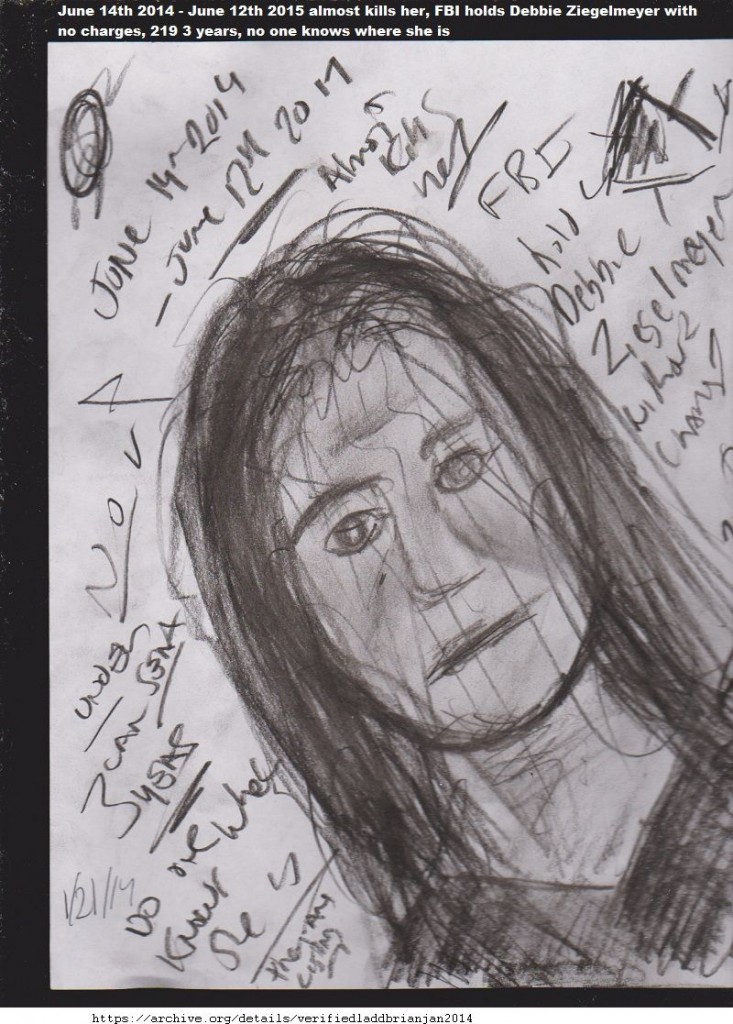 (picture taken from his website)
When I contacted my sister the morning of the 23rd, she had already heard about his prediction, and because of the seriousness of his claims, we immediately started looking into "Brian Ladd". The more we looked, the more we realized this guy may not be who he claims to be, or maybe not as good as he claims to be.
This is what we had to start with:
The less than appealing sketch of my sister (on a very bad day) could be of any person named Debbie Ziegelmeyer. The name Debbie Ziegelmeyer shows up on the upper right hand side of the picture. The interesting thing is the date, 1/21/14 on the lower left hand corner, that's Debbie's birthday which she just celebrated. The more we looked at the sketch some very simple things popped out.
First, it appears the date [1/21/14] was added at a different time frame from the sketch due to the contour of the lines and the obvious line width structure.
Second, the date June 14th, 2014 compared to the date June 12th, 2017 shows differences in not only in the way the numerical "2" is drawn between them, but also with the letter "n". Was the drawing altered?
Third, the picture is obviously cropped on the right side. What's not being shown there, or do you have to pay to be able to see it?
Fourth, there's other subtle differences between numerical characters used throughout the sketch that don't match up.
Either way, there's no guarantee this prediction was associated with my sister, until we did some digging and it got real suspicious real quick.
[ Wed, Jan22, 2014 at 1138 PM]
My sister received an email from a lady saying that Debbie's name and image came up in one of Brian Ladd's dreams for 2014. She went on saying she doesn't know anything about UFOs but alluded to other things pertaining to Nazi's experiments and  government agencies spying on us. Anyway, at the end of her email it appears she had forwarded the prediction of Debbie to her present email from another email address which was: orders@briansdreams.com This forward email was time stamped [Wednesday, January 22, 2014 5:52 PM] with the Subject: Last nights dreams.
First, how did this lady get Debbie's email address? And why did she automatically assume she had the correct Debbie especially if she's not into UFOs? Notice the difference between the two dates, one abbreviated and one not? They came from two different email servers. Was one purposely forwarded from the website looking for money? The "From" section was clearly "orders@briansdreams.com", but the "To" was left blank. Why was the "To" left blank, or was someone's name purposely removed before it was forwarded?
This may be just pure and complete coincidence, or is it?
When both Debbie and I went to Brian Ladd's website to further our research, we quickly saw that after a couple of times of poking around, an alert message popped up asking for us to register not allowing anymore research without paying. His website remembers your IP address and stops you from researching his predictions even if you try a different browser. Not only that, but even his free trial registration forces you into purchasing a magazine subscription or other listed goodies. This is clearly a money-making venture through his website in-comparison to psychic reading companies over the phone. And let's not forget he predicts a Debbie Ziegelmeyer will be abducted by the FBI, almost killed, and kept against her will for 3 years. Would a professional psychic just put this out on their website, or are they doing it for "attention" with the "intention" of making money?
Here's another thing, the FBI holding someone against their will without a warrant, without contacting family, without filing charges, then after three years just letting them go? The Fourth, Sixth, and Eighth Amendment violated by the FBI? Really? Not likely, the FBI is not a secret covert government entity, they have offices in every major city. Well the FBI was not amused by Brian's predictions. Yep they were called, and here's why.
Debbie and I have crossed paths numerous times with individuals within our government either in person or by phone. We're always honest and release any information they need. You see we're not in the business of working against the US government, we are in the business of running investigations and releasing the information to the public, for FREE. If we ever step over the line and are asked to back up, we will, because we won't do anything which could jeopardize the lives of citizens or our soldiers in this country. So it would be implausible for the FBI to illegally grab Debbie because we always cooperate and will in the future.
The theory behind Brian Ladd's prediction of Debbie appears to play out like this:
Make a threatening prediction involving someone with high credentials within a very popular UFO organization MUFON. Contact that person through a third-party, so they're well aware of the danger they are in. Maybe pick a female because they think they are more vulnerable. Bet on the threatened person contacting numerous individuals within the UFO community frightened for their life, thus causing a storm of concerned people going to a website to learn more. The website thus profits from the concerned individuals through forcing its readers to pay a fee. This appears to be a scam, nothing more, nothing less, just an adolescent scam and a pretty obvious one at that. At least from a investigator's point of view.
In this example the Debbie Ziegelmeyer I know appeared to be a target. Not some vulnerable female who fears for her life, but a women who numerous times runs towards the unknown, rather than running away from it. Instead of panic, this UFO investigator decided to investigate the person making the prediction, rather than the prediction itself.
Only an unprofessional physic with greed in their heart would make such threatening predictions, stick it on their website, and not make an effort to find and personally inform the individual about their future fate. Or… was the real purpose to target a person involved in a very large UFO community just to make money? When the prediction didn't pan out, it could clearly be said, "A prediction is one of many scenarios, and this particular scenario was changed due to everyone's awareness in the UFO community."  Of-course only a real physic would know if that statement would be true.
I believe we are responsible for our own destiny in which many different paths can be taken. For each path we take, there are also many of those to choose from. I'm not saying physics can't predict the future, I've worked with a few which had good results, but no physic is right all the time especially one that appears to thrive off of people's fears for monetary gain.
Here's my prediction for Brian Ladd. Because you publicly insinuated the FBI acts illegally not conforming to Federal and State laws choosing to do as they please under a covert blanket of darkness like a terrorist, I predict "The FBI now knows who you are and at their discretion could take legal action against you for making false accusations and slanderous remarks for personal profit.
The following is a letter Debbie Ziegelmeyer sent to MUFON's Board of Directors.
MUFON [ Mutual UFO Network ]
To all concerned about my safety thank-you.  But, I wish to inform you that the recent dream prediction #5423 by Brian Ladd briansdreams.com is a scam for money.  A "dream sketch" of me and a prediction that I would almost be killed and held by the FBI with no charges for 3 years, no one knowing where I am is posted on this web-site and was forwarded to me via orders@briansdreams.com.  The only way to access this site for further information is to pay $29.95 a year or $4.95 per month to Brian Ladd's "Brian's Dreams" web-site or via the free access site, which requires one to purchase a membership or subscription to one of his list of services.  I have to say the sketch likeness of me was pretty good and my name was spelled correctly but so was FBI.  When I called the FBI and directed them to this web-site they were not amused.  Don't waste your time, money or attention to anyone who can openly make a prediction such as this and then have no conscience or concerns about the individual's safety without a price tag.
Debbie Ziegelmeyer
Missouri MUFON State Director
MUFON Board of Directors
Disclaimer: The prediction image was taken from Brian Ladd's website and cannot be copyrighted by him under the Right of Publicity law. This pertains to the general right for a person to control the commercial use of his or her name, likeness, and other aspects of "personal identity". Since the name Debbie Ziegelmeyer (correct spelling) was noted on the sketch and a reasonable likeness of said Debbie Ziegelmeyer was portrayed, including a date associated with her birthday, no release form was signed by said Debbie Ziegelmeyer for distribution and artist monetary gain.
If Brian Ladd's website disputes this, then they can post a release form signed by a Debbie Ziegelmeyer pertaining to said sketch image, in which thereafter I will remove said image of the sketch from my blog.
Category: Debbie Ziegelmeyer, In the News, The Z-Files