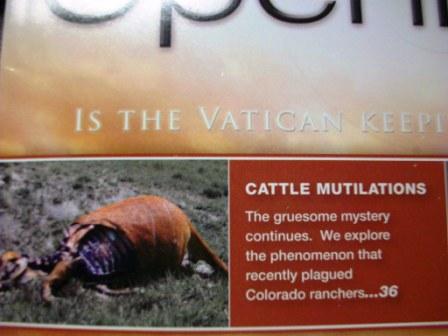 OpenMinds magazine's 2010 June/July issue has included an article on the Cattle Mutilation phenomenon.  Written by my good friend Alejandro Rojas, the magazine not only discusses the history of mutilations but also talks about my 2009 cases, (watch here.) plug…
I'm really happy we have a new magazine "on the rack" which supplies the readers with a wealth of phenomenal information, or should I say UFO phenomenal information.  I'm not saying this because there's an article in there about me or because I have good friends who work at OpenMinds.  I'm saying this because the magazine is really good!  Besides the cattle mutilation article, this issue also includes information on, "Obama & The UFO Secrecy", " The Vatican Disclosure", "Colonel Corso: Pentagon Insider" and much, much. more.  I just couldn't put the magazine down until I read it all.
The new issue of OpenMinds magazine can be purchased not only at the (OpenMinds.tv) website, but also at Borders and Barnes and Nobel book stores too!  So jog down to your local book store and pick up an issue today, or maybe you should take the car if it's too far to jog, either way, "Pick up an Issue Today and Enjoy!"
And don't forget to tell them, "The UFOnut sent you".
Category: Cattle Mutilations, In the News