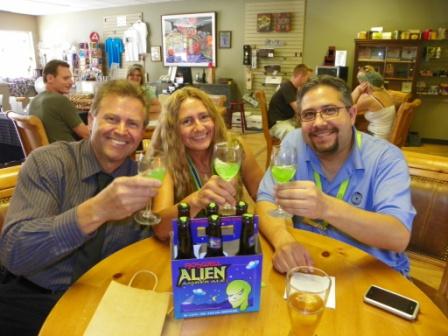 (Me, Debbie, and Alejandro Rojas)
This year's Roswell Festival started out with a toast. A toast not only to this years speakers, but a toast to all the people who made the trek to experience Roswell at its best. Roswell is nice to visit on the "off" season, that would be anytime outside of the July 4th weekend, I just enjoy the July 4th season the most. It's a good time to visit my friends in Roswell and also rub elbows with other friends who work the lecture circuit. Oh, the fireworks are awesome too!
There's always plenty to see and do during the festival. Most festivals only sport one lecture series, this one sports three.
Ancient of Days : War of The Worlds, at the Roswell Public Library.
The Roswalien Experience 2010, at the International UFO Museum and Research Center.
Roswell, UFO, & New Mexico: 1947 & Beyond Roswell UFO Symposium, at the Roswell Museum and Art Center.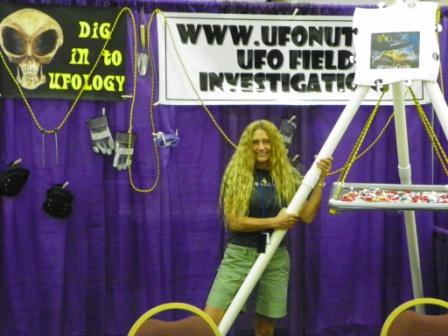 (Debbie in front of our booth)
Debbie and I spoke at the Roswell Museum & Art Center. This event is hosted by the city of Roswell and the one we generally lecture for. All three are good sources to gather different blends of information, and all three give the city's visitors plenty to choose from. The picture above is our speaker table where we hung around from time to time to answer questions. We also gave out candy goodies to entice passer-bys to stop and say hi. Yep, we bribe them.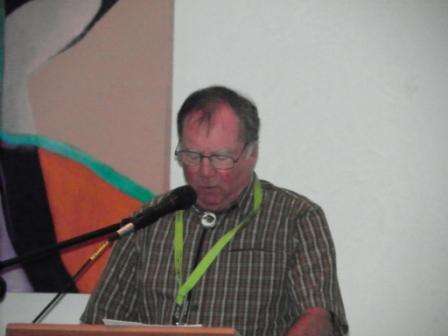 (Jesse Marcel Jr co-hosting the Roswell UFO Hall of Fame Inductions)
Jesse was just a young boy when his father woke him and his mother late one night and showed them unusual looking debris. The strange looking pieces of metal were gathered by Jesse Sr. and Sheridan Cavitte at the Foster Ranch crash site. Jesse Sr. and Sheridan were under direct orders from the Roswell Army Air Force Base to retrieve samples of the debris and bring them back to the base. Jesse Jr. never thought that one late night adventure would forever change not only his life but the lives of so many others. Check out the video on this website, "08.02.09 – Episode 002: Return to the Roswell debris Site." The video shows me and Debbie taking Jesse Jr. to the debris site for the first time in his life. This was the location where Mac and his son Vern originally found the debris which later was shown to Jr. by Sr. It was an honor escorting him out there and being able to share that experience with him.
Two new "UFO celebrities" were added to the Roswell UFO Hall of Fame during the second annual induction ceremony on Friday, July 2nd. Two good friends of mine, Jesse Marcel Jr. and Peter Robbins, co-hosted the event which paid tribute to Paul Davids and Stanton Friedman (who was able to sneak away from his lectures.) The first inductee in July of 2009 was Jesse's dad, Major Jesse Marcel Sr.
Paul Davids, a world renowned filmmaker, is best known "In Roswell" for being the executive producer for the 1994 movie, Roswell. This movie was nominated by the Golden Globe Awards as one of the five best television movies of 1994. Definitely my favorite, this movie included well-knowns as, Dwight Yoakam and Martin Sheen. Probably one of the best movies which depicted the events of 1947 so accurately.
Stanton Friedman… what can I say about Stanton except for referring to him as the "Father of Roswell". Stanton re-generated the Roswell incident. If it wasn't for him, there probably wouldn't be a festival. In 1978 Stanton located and interviewed Major Marcel, Jesse's father. Within just two years after that, over 62 eyewitnesses were located, thus changing Stanton's life from then on. And it's still changing today. With new information at every one of his lectures, Stanton is always a pleasure to see and experience.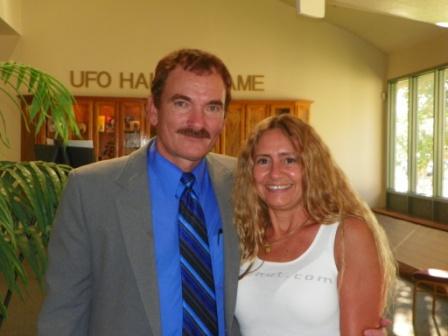 (Travis Walton and Debbie)
Travis Walton is known for the November 5th, 1975 UFO incident in the Apache-Sitgreaves National Forest in Arizona. After seeing an unusual craft from a pick-up truck with the logging crew he was with, Travis jumped from the truck and ran closer to the object. Why? I keep asking him that when I see him. His response? "I wanted a better look". Well he got one. Struck down by a beam of light, then taken by the occupants of the craft, Travis was gone for five days. The book and movie "Fire in the Sky" depicts the events of those horrific days. Travis's updated version of the book adds a chapter which includes information not in the movie. It also talks about incidents in the movie which never happened. Just Hollyweird crap, not like they needed to add anything to the movie to make it more interesting. It's always fun seeing Travis which gives us time to play catch-up and make fun of the other speakers. Like Alejandro. heh heh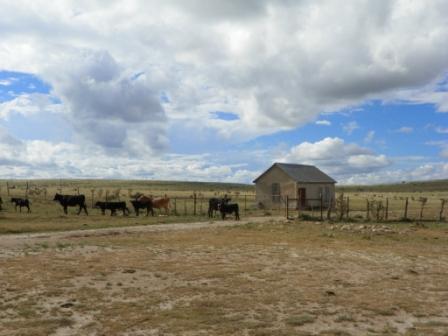 (Hines House, Foster Ranch near debris site)
This year like all previous years included a trip to the debris site. Last year, as I mentioned, we escorted Jesse Marel Jr. and this year we took our good friends from Open Minds Magazine: Alejandro, Tom, and Maureen. Watching Alejandro walk around the desert while taking in the whole environment, I asked him what his theory was on the Roswell incident. He said, "It was just a weather balloon". So we left him there. Oh we gave him a bottle of water, an energy bar and some sun screen. I'm sure he'll be alright.
I'm just kidding, he doesn't really think it was a weather balloon… but we still left him there anyway. He talks too much and it's a long drive. 😉
Going out to the debris site is not about taking other investigators out there and acting all important, it's about documenting environmental changes which have occurred at the archeology site. Earth, Wind and Fire (not the band) is what we look at the most. Documenting the changes throughout the years we've been there, we watch how natural erosion contours the ground. This gives us a good idea how the landscape continues to change since that July night of 1947. Monitoring rain flow, fires, and high winds, we are starting to get a pretty good idea where the best place to excavate would be the next time we have the opportunity. And no, we don't bring metal detectors or archeology equipment with us. It is BLM property and an active archeology site. Permits must be acquired to take anything from the site, and we're all about doing it right. So far every artifact which came out of the area has been acquired legally and by the "proverbial archeology book." The skeptics and debunkers have no ammunition to battle us with this one, so modern day science-1, debunkers-0.
Many thanks to all my friends and fellow investigator/researchers we met with at this year's festival. Many thanks to the Open Minds Magazine crew for having very professional and fun people to hang with. Many thanks to the City of Roswell for inviting me and Debbie to speak, and many thanks to the UFOnut team, Matt and Trina, for being there to document not only our experiences but other peoples' experiences too! More on that later, and it's worth waiting for.
Also, a shout out to Robert Ridge, Dennis Balthaser, Cliford Clift, Richard Dolan and Guy Malone. Sorry I couldn't touch base with you more.
Keep Lookin' Up! (and towards Roswell)
Category: Alien & UFO Sightings, Chuck Zukowski, Debbie Ziegelmeyer, Investigations, Jesse Marcel Jr, Open Minds Magazine, Roswell, Roswell Dig, The Z-Files, Travis Walton