On the night of July 3rd 1947, 48 year old rancher W.W Mac Brazel and his 8 year old son Vernon, were staying at the Hines ranch house waiting out a terrific thunderstorm. The ranch house is located roughly 80 miles Northwest of Roswell in Lincoln County near the city of Corona. Early next morning while venturing out to check on their sheep, they came upon strange metallic debris and other unknown material scattered within a 200 to 300 yard area across a pasture. Thus the Roswell UFO crash event begins.
Jump to Friday Sept. 20th, 2002, my sister Debbie and I met with Roswell investigator Don Schmitt at the UFO museum in Roswell roughly at 6:00pm. We were asked to participate in an archeology dig at the famed Mac Brazel debris site. We were surprised to see the Syfy Channel crew there to document the dig for their 2 hour special, "The Roswell Crash: Startling New Evidence".
The archeology dig was sponsored by the Syfy channel and supported by Roswell's, International UFO Museum and Research Center. The University of New Mexico's archeology department was in charge of the dig with Dr. Bill Doleman behind at the helm. A host of volunteers helped the archeologists, including yours truly with my sister Debbie, worked the site for over five days. In 105 degree heat we dug, scooped, scrapped, and sifted dirt looking for anything unusual which would resemble what Mac Brazel saw back in 1947.
The following are pictures with descriptions from the archeology dig.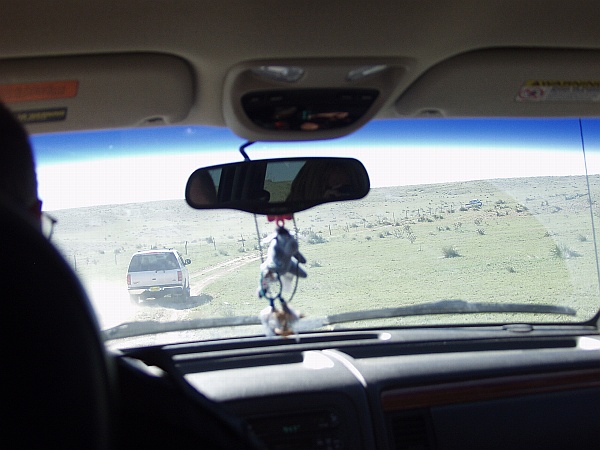 Caravanin' with the Syfy crew to the Mac Brazel debris Site.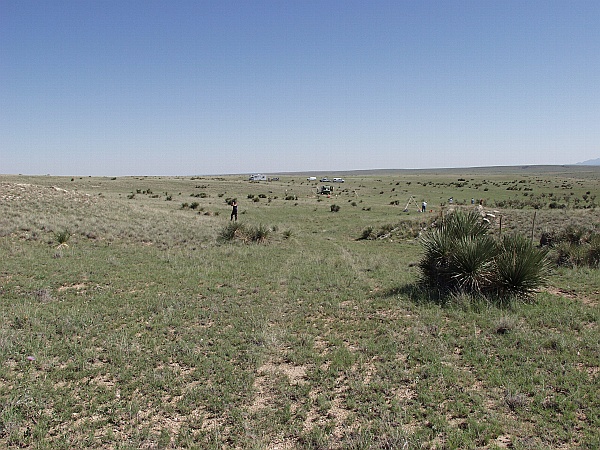 This is just left of the debris site looking down from where witnesses state the saucer skip occurred leaving debris. I'm in the background shooting infra-red video for study. Infra-red can be shot in the day time using a white light blocking lens. I do this looking for any anomalies which may be hidden in the white light spectrum which we see.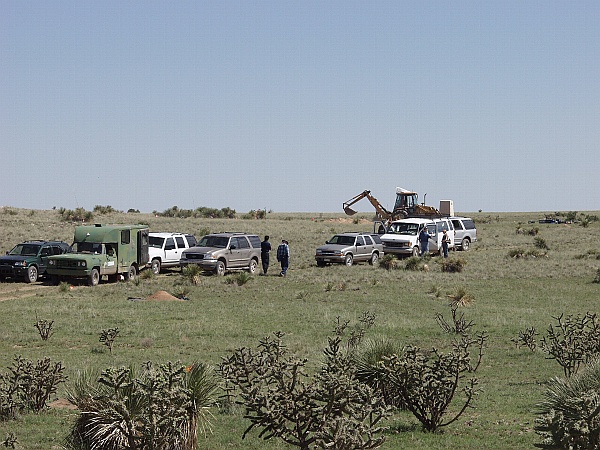 In the back ground the back hoe was brought in to dig a series of trenches looking for any abnormal layers of dirt possibly caused by something crashing through the soil leaving a trench which was then covered up by the military.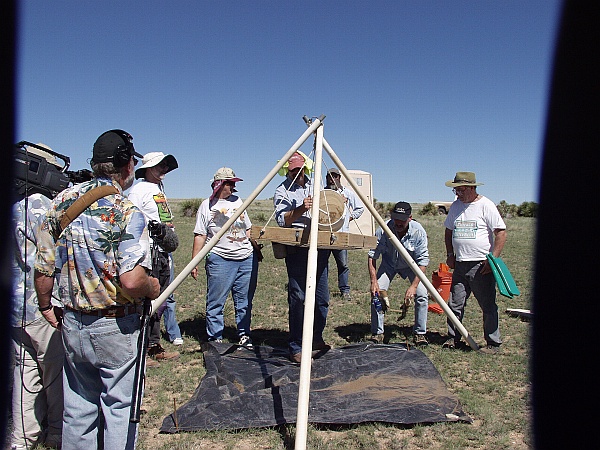 New Mexico archeologist Dr. Bill Doleman was contracted by the Syfy channel to head up the archeology dig. Here he properly shows the correct method of dumping 5 gallons of dirt in to the sifting tripod, while the camera crew records his every action.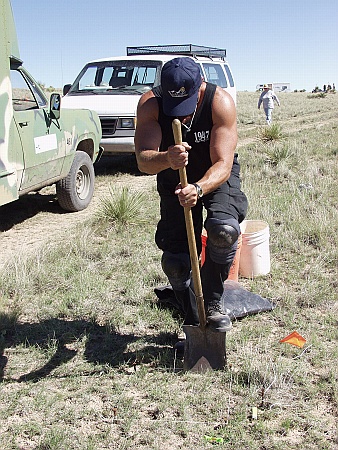 I'm starting our first 50cm x 50cm dig site. We later learned this site was for sedimentary reasons. In other words, Dr. Doleman needed a couple of sites to check the soil layers and ground moisture. My sister and I dug this site down to 70 cenitmeters.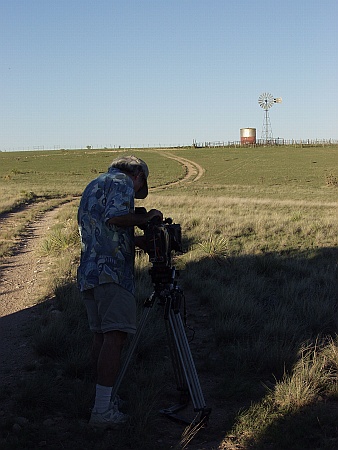 One of Syfy's camera men setting up a location for filming. In the back ground is the ranch road to the debris site.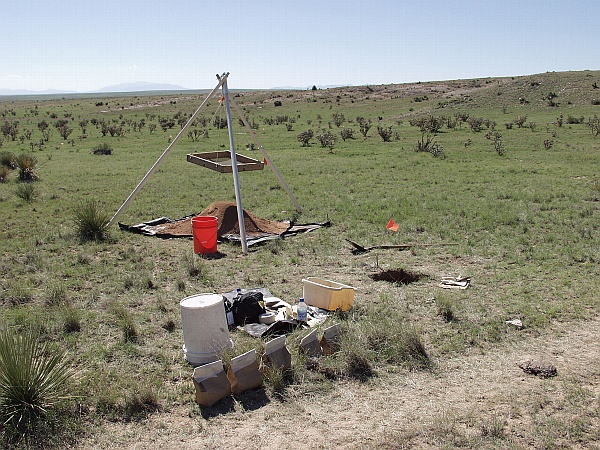 This is mine and my sister's first dig. Notice the 5 bags of soil samples. Each sample was taken within a 10 centimeter depth. In the back ground is our ACME 2002 sifting tripod. Many a dust was swallowed with that.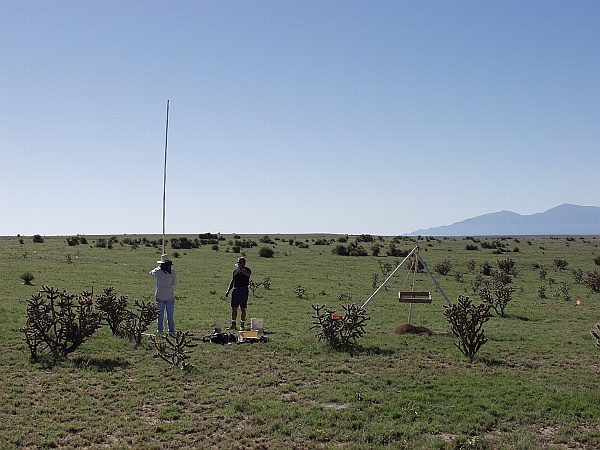 Archeologist Bob stands near me while archeologist Loui (not shown) is checking the elevation at our dig site.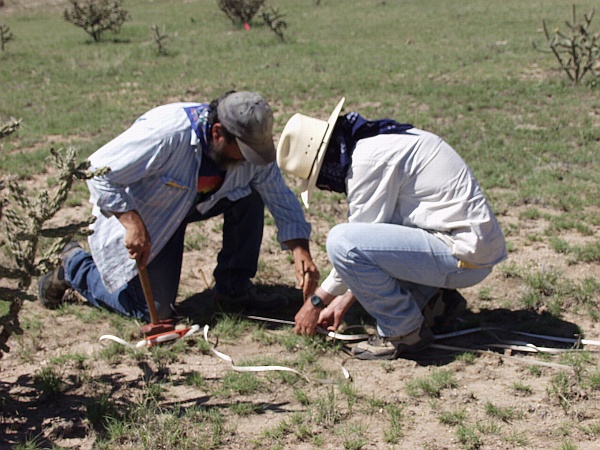 Archeoligst Bob and Loui are measuring out our next dig site. Great care is taken to make sure the location of the site is correct and exact to Dr. Doleman's map.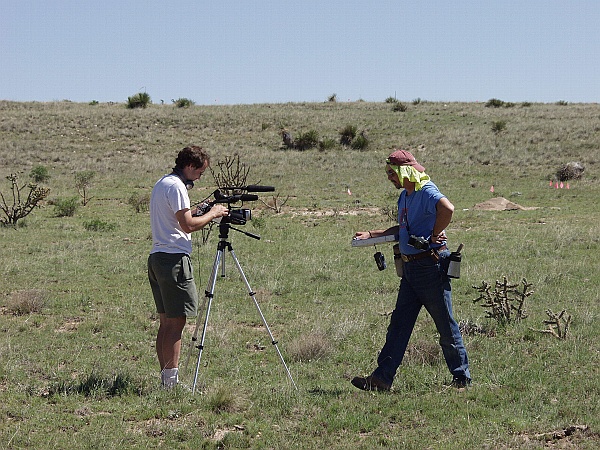 Dr. Doleman being video taped by one of Syfy's cameramen while explaining the events of the dig.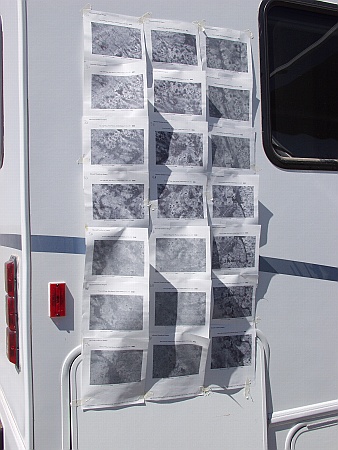 These pictures were located on the side of an RV which the Syfy crew used. They are satellite photos of the region that were used by the Syfy crew trying to locate the impact site by helicopter.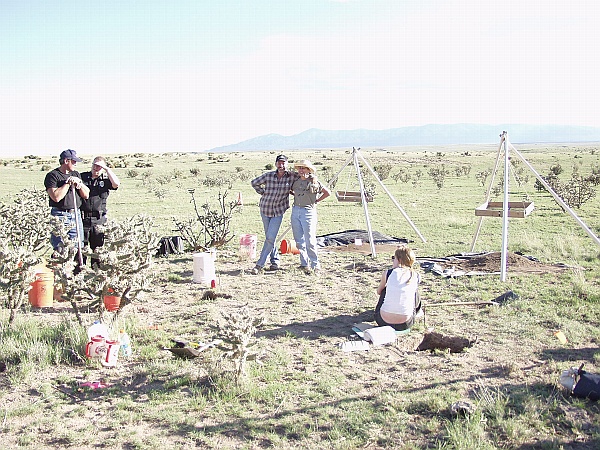 While I take a break and talk with Edwin who was in charge of our security, Nancy and John two volunteers, cheese it up for my sister taking pictures. Volunteer college student Kate, is to the lower right resting briefly before we start our next phase of digging.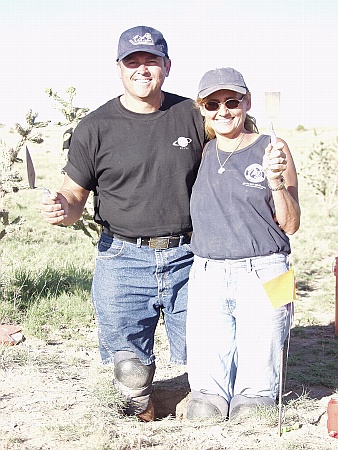 My sister Debbie and I showing off some tools of the trade, our Marshall trowels. We're standing in one of our 50cm x 50cm dig holes.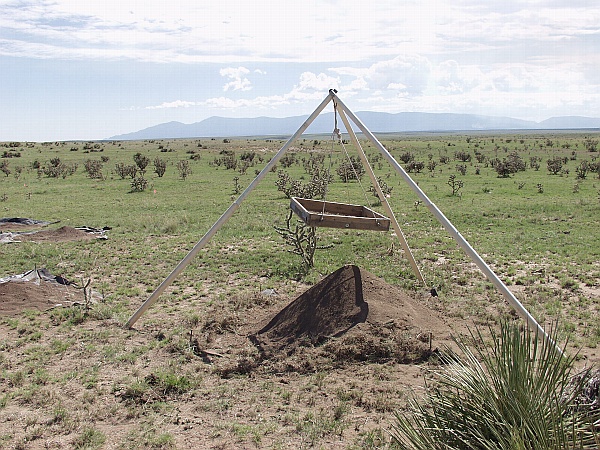 Our own ACME 2002 Dirt Sifting Tripod. Notice the pile of sifted dirt underneath the basket. There was a lot of siftin' going on.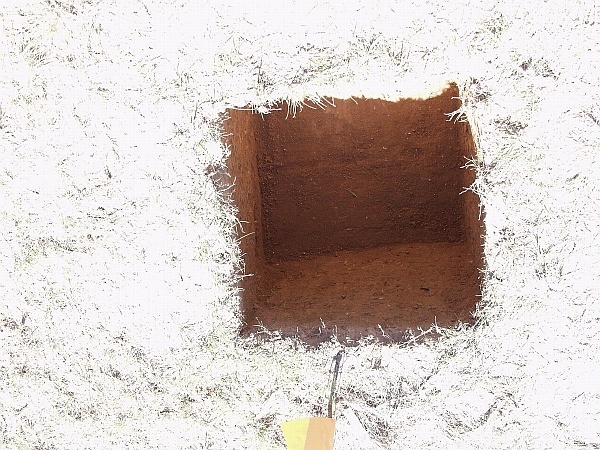 This is a good example of a 50cm x 50cm dig site. The base must be clean before covering for the night. Pictures are taken of the site before covering and after uncovering the next day. This is to insure the site was not contaminated.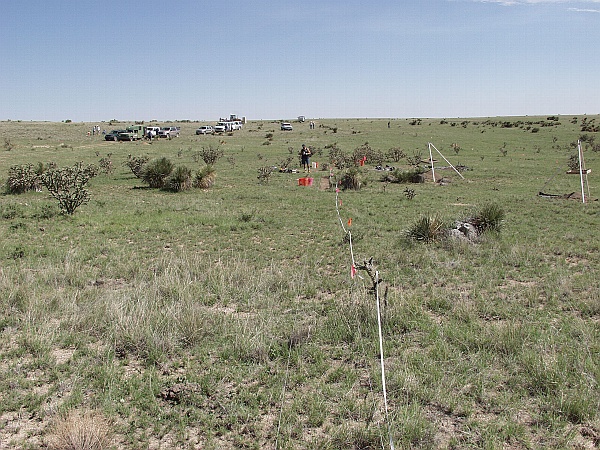 This is the mapping site of mine and Debbie's last dig. After much discussion the previous night, Dr. Doleman agreed to let us control our last dig. This site is smack dab in the center of the abnormality area. It also utilizes an area in which 55 years of rain fall could place scattered debris due to erosion. The strip site is 1 meter by about 20 meters long. It's primary use is to dig a shallow 10 centimeter trench looking for recently placed artifacts. Artifacts placed 55 years ago by a crashed saucer.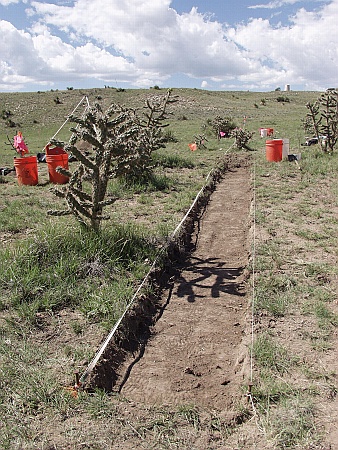 This is the strip dig. I dug down approximately 10 centimeters in 5 meter increment strips, 1 meter wide. While I was digging using a pick and shovel, I constantly filled the orange 5 gallon buckets and supplied dirt to Debbie and 2 other sifting volunteers. We looked like a fine tuned machine. When one sifter was finished sifting, I would re-fill their sifting trays and they would continue. This is where Debbie found our most promising artifact while sifting.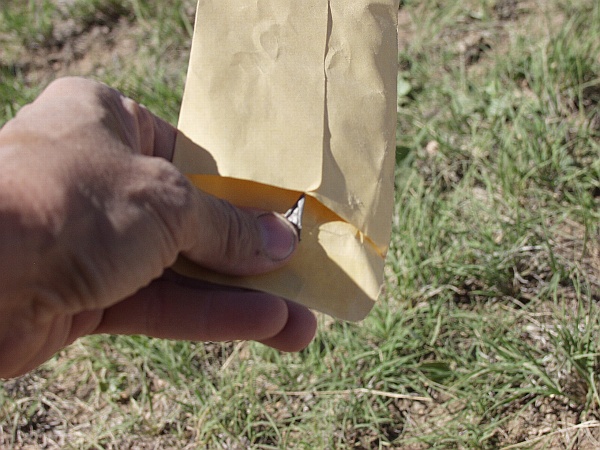 This artifact was found on the last day at our strip dig site.
The artifact was silver and slightly metallic in color. It was about the size of a finger nail, very thin and light weight. It appeared to be a thin metal or Mylar type material. It was so light weight, that Debbie had to hold on to it tight, so it wouldn't blow away.
Archeology Artifact data:
PROJECT: FOSTER RANCH
SITE: SKIP
DATE: 09-24-02
TIME: 1:00PM
LEVEL: 10 CENTIMETERS
GRID N: 1875.0
GRID E: 1959.0
SECTION: 5
SOIL: BROWN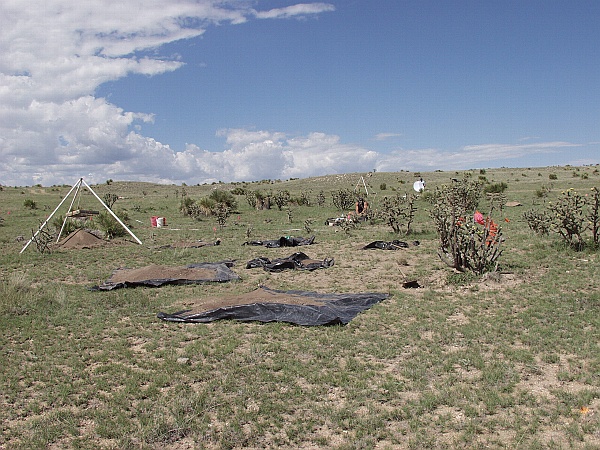 This is what the site looks like when you secure it for the night. After you sweep out the bottom of your dig, and the archeologist takes a picture of it, you must cover it with a tarp. Placing already sifted dirt on the tarp helps secure it in case of wind. Also covering active dig sites helps to decrease grazing animal injuries.
Category: Chuck Zukowski, Debbie Ziegelmeyer, Investigations, Roswell, Roswell Dig, The Z-Files