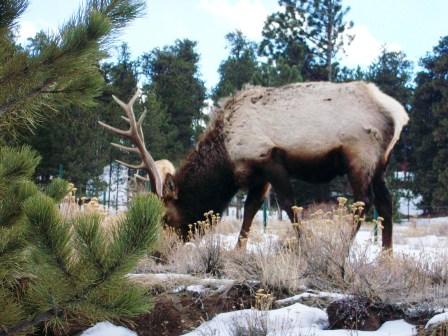 Estes Park
(I took this picture, that sucker was huge)
 
The Stanley Hotel is 7,500 feet above Estes Park and an hour from Denver. It's over 16,000 square feet and has 138 guest rooms. It's also listed on the National Register of Historic Places and a member of  Historic Hotels of America. Originally built by Freelan O. Stanley of the Stanley Steamer fame it opened on July 4th, 1909.

The hotel was made popular by novelist Stephen King. While he and his wife were staying at the hotel, King conceived the idea for his book, "The Shining". Later the 1997 television miniseries version of "The Shining" was actually filmed at the hotel. Unlike the movie, Stephen had more artistic control with the mini series than he did with the film. I'm actually standing next to a prop from the mini series.
Throughout the history of the Stanley, ghostly encounters have been experience not only by the employees but the guests as well. Some of the apparitions seen at the Hotel include F.O. Stanley himself, his wife Flora, Lord Dunraven who the Stanley's bought the land from, and a few others. Some of them include a maid who was seriously hurt and survived a gas lantern blast, a maintenance man named Paul who just recently died a few years ago, and a female transient named Lucy who used to live there before it's renovation. Ghost tours are performed daily for hotel guests and visitors, and on the weekends they've included ghost investigations in which I was a part of. The investigation's price is $50.00 and usually includes about a dozen people who stay in the bachelor's building from 8:00pm till 1:00am. I happened to be there on Saturday for the 5:00pm tour and was able to purchase a spot for the late night paranormal investigation. The late night investigation is run by one of the hotel's  local ghost hunters who hosts interested individuals and guides them through different aspects of a standard ghost investigation. Other paranormal investigators use these types of investigations to get into places they normally couldn't get to. Well I broke off from the group a little after it started and ran my own personal investigation taking one or two individuals with me who were interested to see what I was doing. No dis-respect to the Stanley's ghost hunter specialist, I just had my own agenda which utilized the tools I had on hand and was graciously allowed to venture on my own. Thank you Stanley Hotel.
My tools included a 3D camera which I was experimenting with, and my normal kit I put in my vehicle when I go out. The kit includes a Sony Hi8 night vision camera, voice recorder, Tri-Field Natural EMF meter, night scope, and some other assorted gadgets for standard UFO investigations.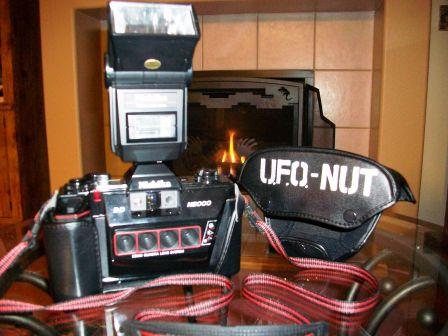 This is a Nishika35mm 3-D camera N8000 with a quadra lens system. Basically this camera is comprised of four 30mm two element lenses positioned to an accuracy measured in thousands of an inch. You can find this on sale throughout the Internet, this particular one was given to me by my good friend Joe Fex. Some ghost hunters use this type of camera to help with their investigations. Using 35mm film, they can get multiple images per print. Most of the time you will get 2 of the same images per print being able to achieve a stereoscopic image. Staring at the middle of the two frames and slightly crossing your eyes, you'll be able to see a 3 dimensional image.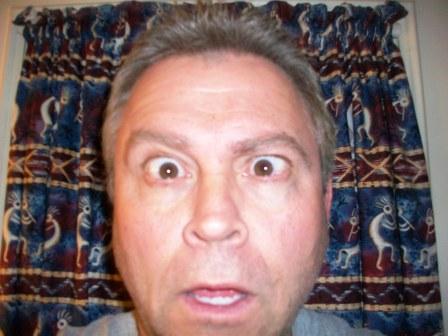 You can do this with any two identical images but the difference between using two identical images and using a camera which uses multiple lenses, is that the left and right images are taken by different lenses. You could pick up an anomaly on one lens, the left picture and not on the other lens, the right picture. I'm still experimenting with this camera using different types of asa film. The following images were taken using asa 200 and shot indoors, some in complete darkness. When looking at them, concentrate on the center black vertical bar while crossing your eyes slightly until you achieve three separate images. Then concentrate on the center image until you're able to focus clearly and get a 3D image. Then you can slightly scan the 3D center image looking for any type of anomalies. It takes some practice.
The following pictures were taken during the 5:00-6:00pm ghost tour.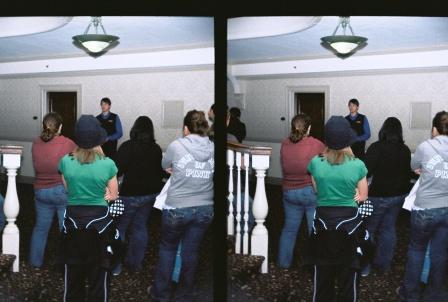 Picture taken during the Stanley Ghost Tour
The following pictures are of the  Fourth Floor and has a history of supernatural activity. This floor is where the children were kept with the nanny's while their parents enjoyed all the outside activities of the hotel. Guests who stay on this floor have complained of hearing children playing late a night and also reports of impressions on the bed and noises in the rooms.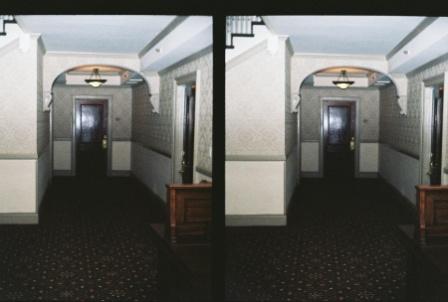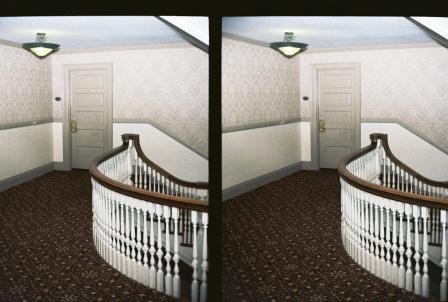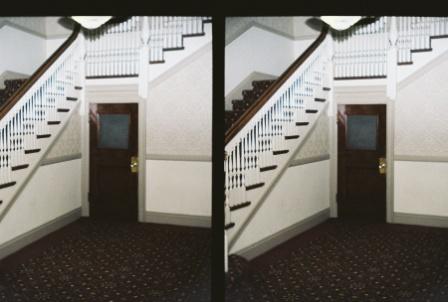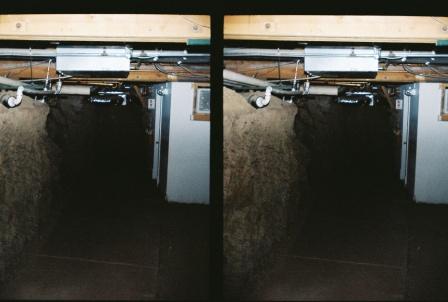 This is part of a tunnel in which present day employees use to get around. This is the last stop on the guided ghost tour.
The next few pictures were taken in a building where the bachelors stayed. It wasn't proper for single men to stay in the main building where the married couples were, so they got their own pad. The spirits who frequent this building are Flora Stanely who maintains a watchful eye over any events occurring there, Paul who was a Stanley employee and had recently passed, and Lucy who was a transcient that lived in the tunnels before the building was renovated and later died due to exposure.
The following pictures were taken during the 8:00pm to 1:00am on-site investigation.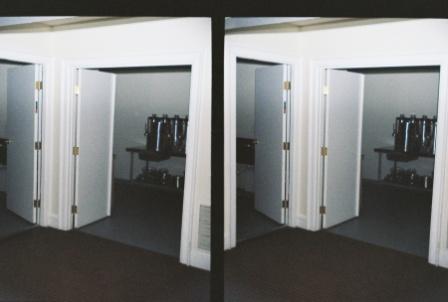 Apparitions are known to pass through this area and sometimes catch visitor and employees attention. In this picture (it's a little difficult to see) the left image has an orb or dust particle just to the upper left of the top of the stainless steel containers, but the right image does not. Looking at them together achieving the 3D effect, the little orb appears to be floating.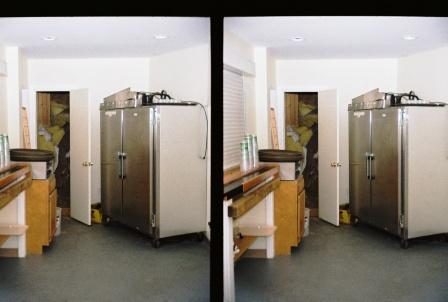 This room is where I was getting responses from my EMF meter when I was asking questions about Lucy. All this was caught on my Sony Hi8 video camera including a nice little orb which passed right in front of me just after I asked one of my questions. The door in the background is the entrance to the tunnels where Lucy lived, so we know she passed through this room allot.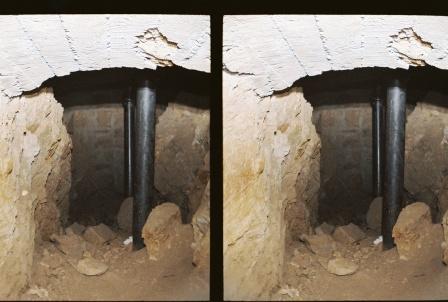 This is one of the tunnels in which Lucy travels during her spiritual life.
I did experience some interesting things during this investigation and am currently going over my audio and video tapes. I picked up an unusual floating orb on video and need to verify if it's actually an unknown or just a dust particle. Also while I was video taping in the hallway late at night,  I'm pretty sure I saw a shadow cross in front of me. The hallway was near a room in which Paul has been known to visit and I was calling out his name when I saw the shadow. I had my video camera rolling at the time but was not able to see the shadow through the small screen. I'm going to experiment with that segment of video and see if I can enhance the image.
I've been wanting to do an investigation at the Stanley for some time now, so this was a real treat for me. I do plan on going back for another try, and this time I'll bring more gear.  There's some experiments I want to try and a little more research on the visitors who frequent there so I'll be better prepared too. I'll go through my video and audio and will post any results I get which seem interesting. I need to compare the orb light to a known dust particle video to make sure It's not a  particle floating near my lens being illuminated by the IR light. I do have some interesting video of me asking Lucy questions and getting pretty good responses on my EMF meter. I'll review that segment and post the video on this sight a little later. So at this time I need to stop typing and start reviewing my tapes to see if I picked up any EVPs too!
Category: Hauntings & the Paranormal, Investigations