The August 19th airing of Syfy's new show "Fact or Faked" touched base on one of my cattle mutilation cases here in Colorado, the Sanchez case which can be read in detail on this website. Upon viewing my segment, the show constantly misused information that both I and rancher Sanchez had given them, and this attributes to nothing more than lack of experience. Theirs not mine. The show is weak in getting the correct information across to the viewers and they seem to be pretty good at it. They constantly mention four mutilations occurring within one month. What they fail to mention is Manual Sanchez had four mutilations on his ranch alone within a three week period. His fourth was the one I investigated and that was the information I gave them for this show. I also investigated two more cases within March, then another one in November and yet another in December. A total of five for me for 2009. Oh a quick note before I go further.
I would like to apologize to rancher Sanchez, I had no idea I was dealing with such inexperienced people.
I regretted helping Base Productions with this episode from the get go. That's why it was not posted on my website. When they first contacted me, all they wanted was information to pitch their show to Syfy. I was very suspicious of their intentions, but like an idiot I didn't listen to my other investigator friends telling me to shy away from these guys. So, why did other investigators warn me about Base Productions?  Well Bob Kiviat is involved with Base Productions. Remember Bob from Alien Autopsy? I know, I know…
Note to all production companies who contact me in the future about any of my previous investigations: I won't be so gullible or so easy to just give out free information now. You can thank our buddies at Base for this.  Lesson learned.
Note to any viewers who watched the show: The picture shown at the very beginning and all through the episode of the full size mutilated cow is not my picture, but Mr. Sanchez's. It depicts his first mutilated cow from 2006 and not my case in 2009. Confusing huh?
Well to say the least, the episode was very confusing even to me and I was there! Geeesh. Are they trying to solve the 2006 mutilation or the 2009 case I investigated? Paddle handling back and forth between the two mutilations, for a minute there I thought I was watching, "Balls of Fury". Oky Doky Artichoky!
I'm not going to say anything negative about Bill, Chi-Lan, or Larry, the three investigators working on my case. Well at least not yet. All three were very professional to me, but I realized when I met them, they really didn't know who I was nor were they familiar with my investigations. Good investigators will at least do some research before they go out on assignment. Maybe Google my name next time guys.
Ok, so let's look at their investigation.
First I take the team to the site where rancher Sanchez is waiting. They ask me where the calf was laying and I show them. At that moment the episode cuts to showing a picture of the 2006 mutilation and not the 2009 calf mutilation. Why? I don't know! Then Syfy investigator Chi-Lan asks me to describe the calf I investigated explaining the complete missing center section. This doesn't make sense when they keep showing pictures of a completely different animal. Now they ask the rancher if he's seen anything strange in the area, and he describes the strange light sighting he had a couple of months prior to the mutilation. This amazes them as the camera pulls in tight for that "hmm" thought.
The F' team (that's how I'll refer to the Syfy team from now on) decides to Ground Sweep the area for EMF and radiation detection. I did both of these tests back in 2009. Of course they knew this because it was in my notes I gave them with all my investigative pictures. You'll see the pictures I gave them later in the show, it's the photo binder in their hand when they're talking with the veterinarian. Next the F Team finds a bone from one of the calves from 2009. All they had to do was ask where the bones were.  Rancher Sanchez and I could see bones everywhere and even pointed it out to them. Oh well it played out nicely for them on TV.
F Team Bill mentions that skeptics believe mutilations are either a man made hoax or a natural predator attack. The team incorporates the expertise of a veterinarian to help them with a little experiment. Let's talk about the veterinarian for a moment.
The veterinarian they had was acquired on short notice and she traveled out from New Mexico. Negotiations with the local vet they were originally speaking with fell through. Why did I know this? Because I talked with him. Originally one idea was to have the vet debate me on camera about why I think these mutilations are unknown deaths. I didn't like that idea and didn't want to trash anyone on camera. I respect the vets working in the area, and welcome their opinions. So I called the vet and we had a nice chat over the phone. Anyway negotiations fell through with him, and Base Productions had to bring another veterinarian in, Dr. Amy Mason from New Mexico.
When I briefly met Dr. Amy her first words to me were, "Let's see if I can figure this out". I told her that remark was an insult to all investigators and law enforcement individuals across the world trying to solve these strange deaths since 1967. She was a little confused with my compassion so I started showing her pictures of my previous cases explaining my findings. She became very interested.
The F team performs a "Mutilation Replication Test". This was interesting. They had Dr. Amy use an electro-cauterizer on an animal they brought out from Denver. Why? Because Bill states on the edge of the incision (in the 2006 picture I guess) there appears to be burn marks. He's pretty good making that statement from a picture and non-investigative case. So he wants to try to mimic the results. Results? Who made the claim the 2006 animal had burn marks around the incision? Well as you guessed, the cauterization technique doesn't work for the experiment.
Have you ever heard of a predator making these types of cuts? This question was asked by F Team member Chi-Lan to Dr. Amy during their experiments. Dr. Amy is on top of her game and states, "Usually predator kills will show claw marks and bite marks and teeth marks, and you'll see where they have left tracks and trails."
Next the F team has Dr. Amy use a heavy duty hand held green laser to try and make surgical cuts. Do we have field surgical battery operated hand held lasers which can cut through leather coats? I don't think so. Next they try a knife and a scalpel. Well the good Dr. Amy states, " The carcass was completely cleaned out, void of any meat, any organ material, any vessels. You know I don't believe any person would be able to do that." Yep she turned to the dark side.
"If people aren't doing this, maybe it's a result of animal attacks" F Team investigator Bill says. So they decide to leave the carcass outside over night hoping for scavenger damage so as to compare with the 2006 photo.
F Team Chi-Lan then states, "San Luis Valley has had five cases of UFO sightings reported since 1996".
This is just wrong and she didn't do her home work or whoever did the homework for her is just lazy. We get numerous sightings every year out of the San Luis area. All they had to do was contact the UFO Watch Tower in Hooper and talk with Judy, or Rick Nelson with Paranormal Research in Denver who had a sighting when I was with him last year, or Stan Romanek who had a sighting during mine and my sister's lecture at the tower.  Or how about just asking the residents there? Hey that's an idea. Two sightings occurred just last year associated with my cattle mutilation investigations, Duran and Sanchez! Once again a non-investigator making investigative claims.
Oh, and of course this makes her think there there could be a coloration between mutilations and lights in the sky. Well at least five of them.
Night Investigation: The F team sets up multiple night vision cameras in hopes of capturing a scavenger feeding off their carcass, or maybe even capture a real cattle mutilation. They also point one camera towards the night sky just in case a UFO happens to mosey over. Oh by the way "Infrared cam 4" in front of the car looking up towards the sky. I did a quick star chart check for March/April when they filmed. It looks as though they pointed the camera to the right of Ursa Major. Anyone want to take a guess? They really needed to use a wide angle lens for this shot or do what I do. Point a night vision video camera down into a mirror which is reflecting the night sky from horizon to horizon. This technique gives you a large field of view rather than a couple of stars. But why listen to me, I'm just a UFOnut investigator without my own TV show doing real investigations.
So here is their big theory. They didn't capture anything paranormal with their meters, and their veterinarian couldn't mimic the surgical-like cuts with the procedures she ran, but their night vision did film a bird scavenging off of their dead cow. So maybe mutilations are a more natural occurrence. Here we go.
Bloat Test: They told me about this one and I just laughed and casually walked away pretending to talk to myself. I didn't answer myself, just posed idiotic questions. One of the theories obtaining the precise incisions on mutilated animals is due to natural bloating of the animal after death. So how do they achieve this experiment? They use a chamois (consumer grade cow hide) covering a balloon which they filled with air.
Note: A consumer grade chamois goes through a chemical tanning process which enables the hide to deliver maximum absorbency and durability.
The balloon inflates and the chamois stretches along an edge which appears to have pre-puncture marks until it rips. Result? It rips! Oh happy day, they achieved a precise cut with this experiment. They solved the case! No seriously,  they think they've solved it!
Now enter the F Situation Room: This is where the great minds of the Syfy investigative team congregate and discuss their findings while patting themselves on their backs. This is their findings from my 2009 case and the 2006 mutilation.
No trace of radioactivity where the cow was. (This pertains to the 2009 case and not the 2006 case which their experiments were based on. Why didn't they go to the location of the 2006 mutilation and check for radiation? Oh I know why? Because they didn't think about it!)
They found a single bone under the tree, had it analyzed and it was just a cow bone, nothing unusual. They really didn't state what exact tests they performed to do the analysis on the bone.
They tried to replicate mutilations with their own dead cow, and that didn't work. (Really? Did they think they were the first to try this? Once again they didn't do their homework.)
They pointed night vision cameras toward the carcass, catching evidence of bird scavenging. Thus viewing natural Mother Nature type causes.
Next the chamois test: Yeah this was their "smoking gun" test, and they also get to use it on their "Hero Mobile". Really, that's how they referred to the vehicle they were driving.
Analysis? The 2006 case is a natural phenomenon with the surgical incisions on the side of the face, neck and upper body being attributed to animal bloating.  The case is closed.
Nothing was said about my 2009 investigation in which I gave them more information than they needed to perform an adequate experimental analysis.
My analysis? The F Team are inexperienced people who muddle around competing with each other to be on camera. Yeah I noticed this first hand. Yep they're incompetent and viewers shouldn't be wasting their time watching the show unless it's part of a beer drinking game. Ok, here are the rules of the game. You take a drink every time the F Team do or say something unprofessional during the show. The problem with this game is you might be drunk before you get five minutes into the program. In which case I would turn the channel and watch South Park. Why?  Because South Park makes more sense!
Now you can decide for yourself. The following picture is from the 2006 Sanchez mutilation. This is Manual Sanchez's picture not mine, please give him credit for it!
Look how the F Team's analysis of bloating could rip the skin from the jaw and the neck area. Oh by the way, where's the skin flap? If bloating rips the skin then where did the excess skin go to? Oh I know, chamois!
Well you decide and please state your comments. If you like the show, then you can comment too! We won't delete them. (notasfarasyouknow)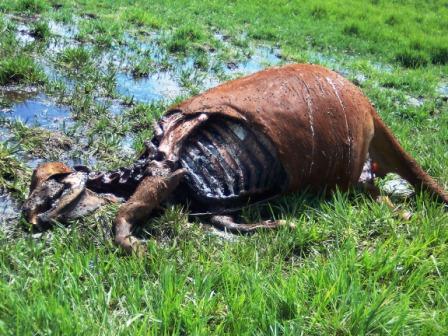 Category: Cattle Mutilations, Chuck Zukowski, gore, In the News, Media Appearances, The Z-Files