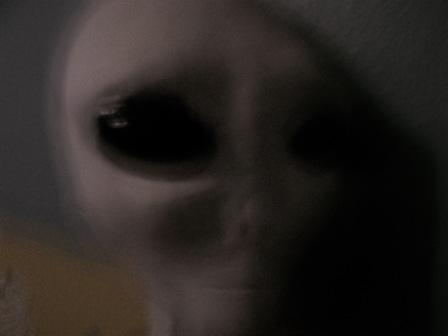 "The Fourth Kind" was written and directed by Olatunde Osunsanmi and is his first major film project.  The film was shot in Bulgaria, Alaska, and Los Angeles, California on a very modest budget.  Trailers from the movie and its marketing department claim it's a re-enactment of actual abduction cases which occurred in Nome, Alaska. The film also boasts having real documented file footage taped by the investigator.  Starring Milla Jovoich who is a 34 year old Ukrainian born actress, supermodel and fashion designer, she portrays a Nome, Alaska therapist who is involved in aggressive alien abduction investigations.
The term "Fourth Kind" originated as a UFO classification system derived by J Allen Hynek in the early 1970's.
Close Encounters of the First Kind: Basic UFO sighting pertaining to unknown craft or lights.
Close Encounters of the Second Kind: A UFO sighting which leaves some form of physical evidence.
Close Encounter of the Third Kind: "The Movie" Just kidding, usually beings are observed.
Close Encounter of the Fourth Kind:  Humans abducted by aliens.
Close Encounter of the Fifth Kind:  Coined by Dr. Steven Greer includes bilateral contact.
Close Encounters of the Sixth Kind:  This usually includes alien contact resulting in injury or death.
Close Encounter of the Seventh Kind: This encounter results in the creation of hybrids.
Close Encounter of the Eighth Kind:  Coined by me, is the ultimate sacrifice, marriage with an alien. I'm sure some of the readers actually believe they've experienced this one.
In September 2009, an investigation by the Anchorage Daily News examined the validity of the films claims including its relation to actual disappearances which occurred near Nome.  Their investigation found no specific alien type events to back up the claims in the movie.  The missing individuals recorded near Nome were a result of having a high rate of alcoholism combined with a harsh landscape environment.
Note:  Upon writing this blog I went to the Anchorage Daily News website to retrieve this particular article and its web site location was empty.  Maybe because of the amount of possible downloads to view it, or maybe something else. Only the Daily News knows for sure.
The movie claims Nome Alaska therapist Dr. Abigail Tyler was involved in a very intense alien abduction investigation in which she and her children were also abducted.  The abductions were so aggressive that it caused one of the abductees she was examining to commit murder suicide and another to physically break his back bone after going through hypnotherapy. The film also used split screen techniques to show the actress acting out specific situations alongside supposed documented footage portraying Dr. Tyler.  The movie also showed a police cam video of an abduction taking place.  So, is this film portraying an actual alien abduction investigation, or is this film just a Hollywood hoax?
Well let's look at some issues:
– No bio can be located (at this time) on Dr. Abigail Tyler or info on her residence in Nome, Alaska.
– Nome, Alaska UFO investigations are scarce, and aggressive alien abductions probably would have been reported or leaked to accredited investigators somewhere in Alaska or Russia, "If they could see that country from their back door."
– The document file footage portrayed in the movie appeared cheesy looking, purposely manipulated, and nothing like any file footage me or other investigators had seen on previous investigations.
– If a police patrol car cam had filmed a possible alien abduction, chances are the FBI would have acquired the film footage and it wouldn't be available to any unknown film maker.
– The FBI did investigate missing persons in the area surrounding Nome and attributed those cases to the harsh environment and nothing unusual.
– Consulting other UFO investigators and researchers, we have never heard of Dr. Abigail Tyler or her investigations from Nome. We've also have never heard of any stream of abduction cases coming from that state.
So, in conclusion based on conversations and emails with other investigators, the film is nothing more than a Hollywood hoax.  The marketing team lied to the general public making false claims just to pad their pocket books.  As for the actresses and actors, well, they were doing what they do best, act.  If anyone disputes this blog saying the movie is factual, then put up or shut up, let's see your evidence backing up your claims.  Now, obviously I'm not familiar with every investigation ever done or their locations, so I rely heavily on other investigators and researchers for help.  All my contacts came up with the same conclusion, "Hoax".   Now on the lighter side, I enjoyed the movie and the way it played out. There were intense segments all through the film which had me on the edge of my seat.
So.. as a UFO investigator and a "not-so" film critic, I give this film, "3 stars, 1 moon, and a can of Spam".
Update 10/24/2010: Read the follow up Blog to this post here
Category: Alien Abductions, In the News, Movies, Pop Culture, The Z-Files