The 2012 Starfest held at the Denver Tech Center, Denver Colorado, was a combination of several conventions rolled into one big event that took place over three days. Originally started in 1977, the convention attracts thousands of people not only from Colorado but from its surrounding states too! This years Starfest included HorrorFest, ComicFest, and RoboFest.
All four events includes special guests, performances, film festivals, activities, and guests in costumes related to their favorite characters. Special guests included actor Johnathan Frakes from Star Trek, actor John Noble from the sci-fi series Fringe, actress Jewel Staite from various TV shows and movies, actor David Prowse who played Darth Vader, and my favorite actress Dee Wallace, best known for her role as the mother in ET.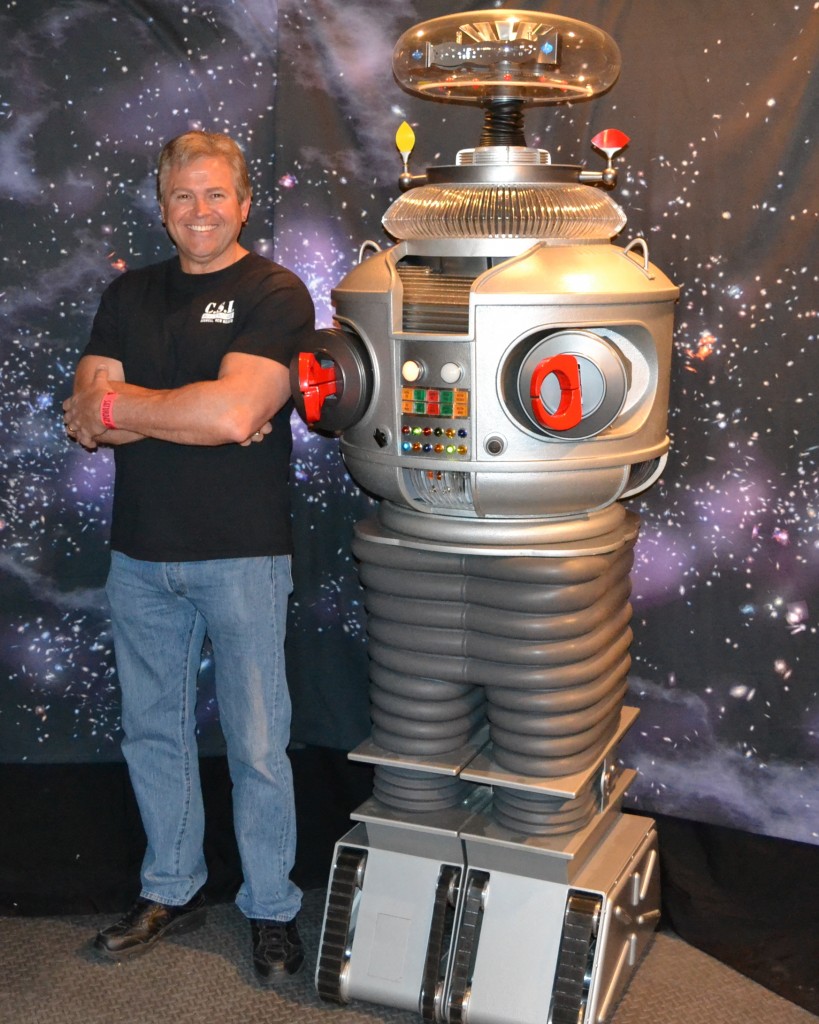 I'm standing next to Charlie Garcia's B9 Robot
Sharing the stage and all the action at Denver's Starfest was Denver's RoboCon. This event was originally organized by Charlie Garcia. Back in 2006 Charlie visited Mike Joyce's B9 Creations Lost in Space Robot Factory in Deadwood, South Dakota. Mike Joyce, Robot technician Greg Logue and Charlie began discussing a gathering of some type for the B9 Robot Builders Club. Charlie suggested he would organize an event in Denver the following year and would call it "RoboCon". In 2007 Denver saw its first RoboCon and thanks to Charlie not only is it a place for all club members to meet and discuss their latest adventures, but it gives the general public an opportunity to experience the B9.
Thank you Charlie… and why the name B9?
The Jupiter 2 crew from Lost in Space referred to the Model B9 robot as just Robot. The term B9 was used in the second season episode "The Ghost Planet", but throughout the series they just refereed to him as "Robot. The B9 Robot Builder's Club is the place to go if you want to build you're own Robot and travel Lost in Space.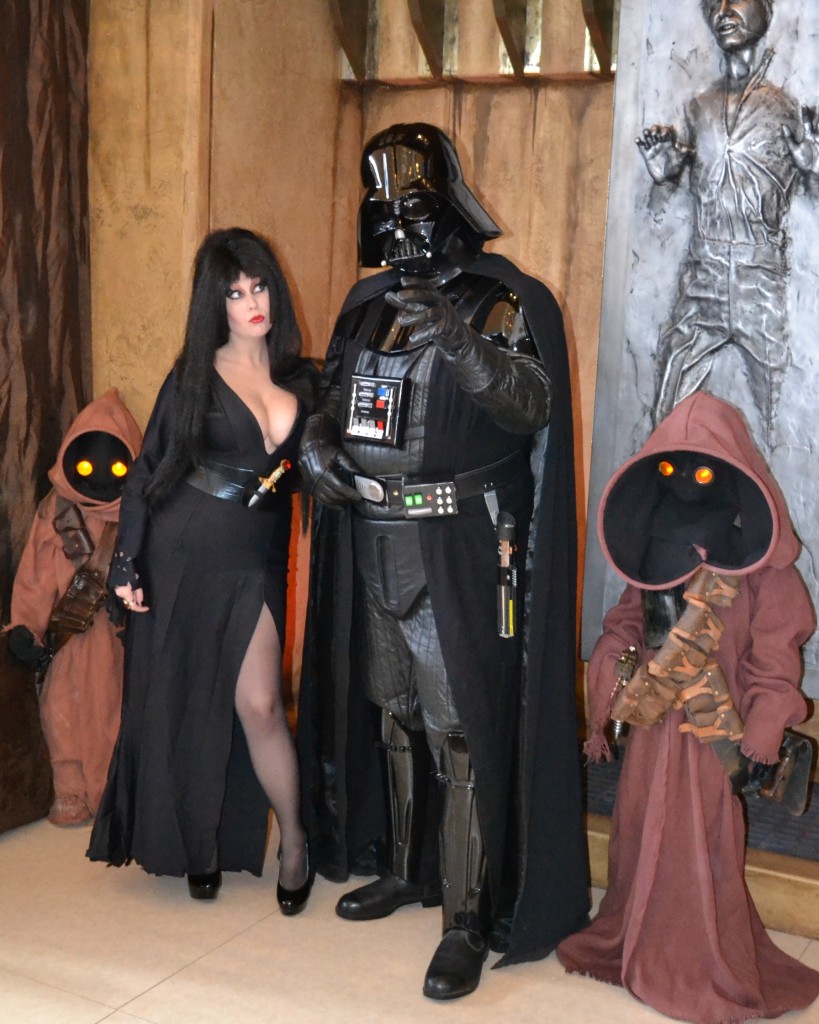 The Mistress of the Dark, standing next to the Mister of the Dark Side.
Ok I have to talk about Elvira. Why? Well two reasons. First, the one in this picture is my daughter Ashley, and second, while living in California I used to watch Elvira host, "Elvira's Movie Macabre", a weekend horror show which aired the worst B rated horror movies you'd ever seen. Elvira would start the show off talking about the film, then all through the airing she would make funny comments at commercial breaks and sometimes cut in while the movie was running. It was great and always fun to watch.
Oh another reason some of us Colorado Springs residents likes Elvira is, she graduated from Palmer High School right here in the 'Springs. Graduating in 1969, she shot off to Las Vegas and became a showgirl at the Dunes casino. In 1981 five years after the death of Larry Vincent who starred as host, "Sinister Seymour" at a local Los Angeles weekend TV horror show, the role was reprised with Cassandra Peterson who created the character Elvira. The rest is history.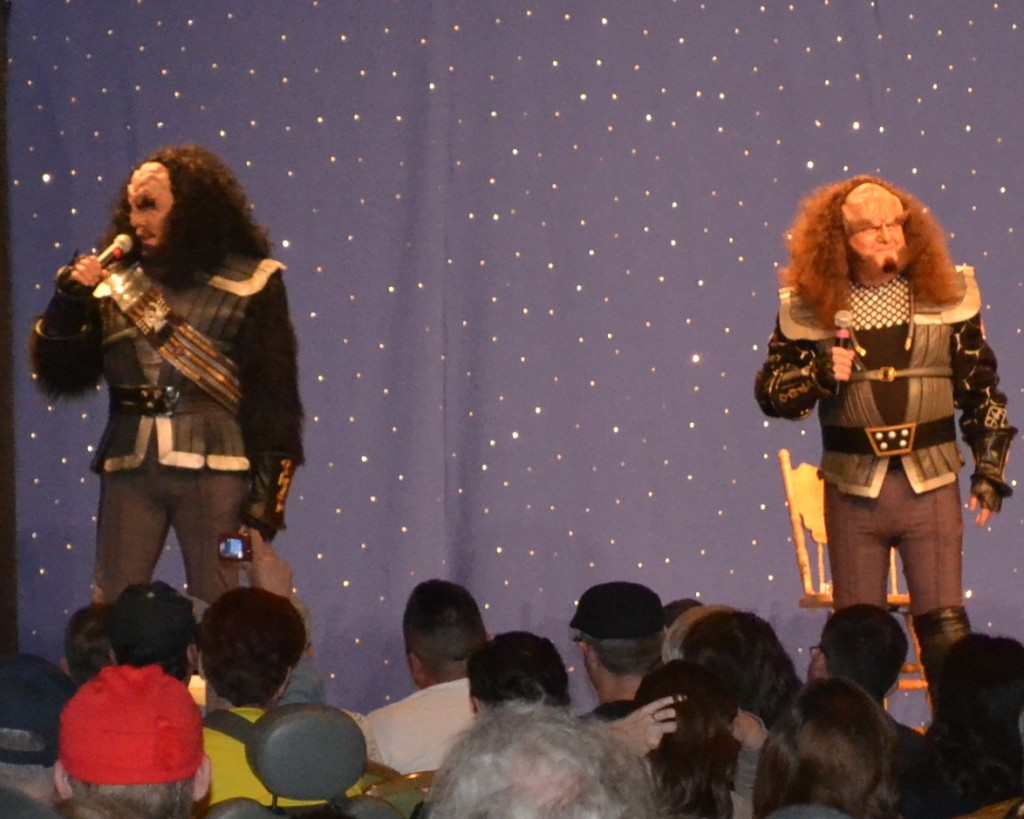 Rober O'Reilly and JG Hertzler "The Klingons!"
Robert O'Reilly has appeared in eight episodes of Star Trek DS9, five episodes of Star Trek The Next Generation, and one episode of Star Trek Enterprise. JG Hertzler has played eight different characters in the Star Trek universe including several different Klingons. He's appeared in Star Trek Enterprise, Star Trek Voyager, and Star Trek: DS9. These two very talented actors put the Kling in Klingon. While on stage and even off stage, in costume they walked and talked Klingon. Oh they sang Klingon too!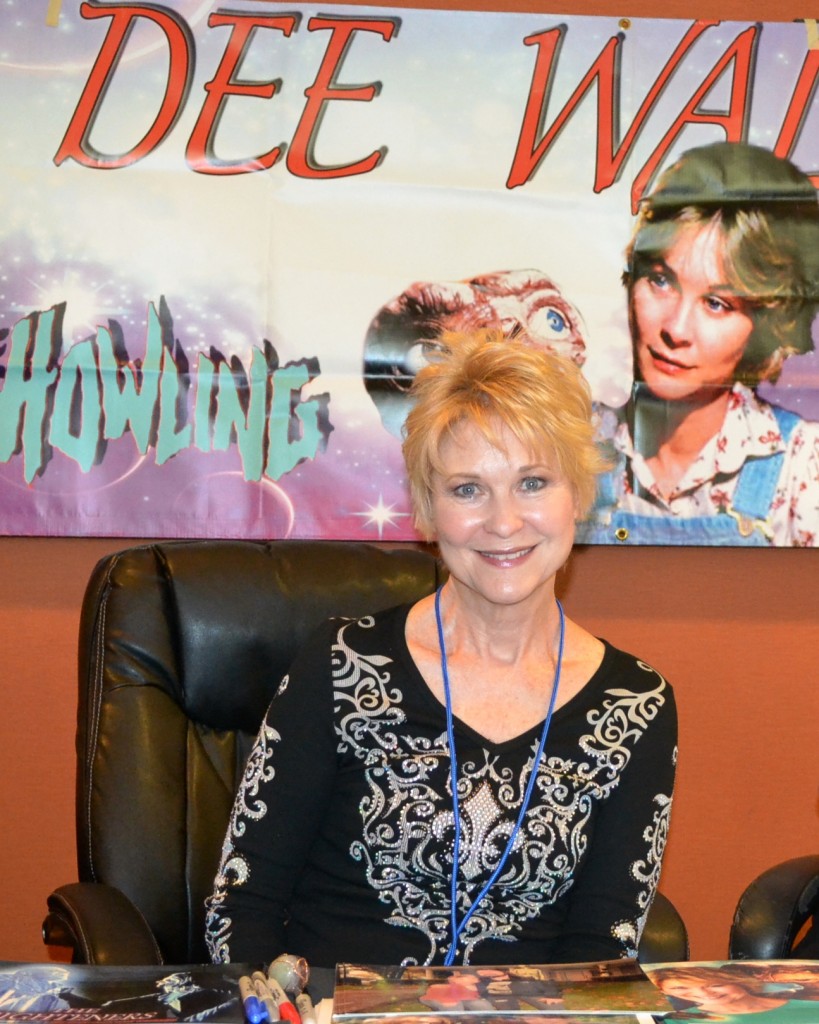 Dee Wallace
Dee Wallace broke into both TV and cinema screens in the mid 1970's. You may have seen her on TV's Lucas Tanner, or The Streets of San Francisco, Starsky and Hutch, Police Woman, Hart to Hart, Chips, Taxi, I can go on and on, but one of her most memorable roles was in 1982's, E.T.: The Extra-Terrestrial.
ET directed by Steven Speilberg, has been one of the most popular alien type movies to have hit the big screen. Even today you can hear young and old alike say, "home" while pointing their finger. (The index one) The movie's budget was just over 10 million and barely recouped that on opening weekend. At the end of 2002, the movie had grossed close to 800 million dollars worldwide.
Dee's role Mary in ET, was mother to Michael, Elliot, and Gertie. One of my favorite lines in the movie was when Michael and Elliot are arguing over what Elliot saw in the yard. Michael says "Maybe an elf or a leprechaun", and Elliot's reply was "It was nothing like that penis-breath!" In which a laughing Dee Wallace as Mary yells, "Elliot! Sit down." I bet Dee Wallace didn't have to act out that laugh.
Another one of Dee's talents isn't acting, it's Channel Healing. I was fortunate enough to have Dee channel me in a session answering a question that had been bothering me for sometime now. Not a serious question but one related to my investigations. I was happy and relieved with her results. You can learn more about Dee's Channel Healing and radio show at her website: ( iamdeewallace.com )
Note: I have an autographed photo of Dee from the movie ET hanging in my office. I got the autograph when my sister Debbie and I met Dee a couple of years ago at a Roswell Festival which we were lecturing. I had to get another signed photograph from her at Starfest because this photograph was just released to her for distribution from the one and only, Rob Zombie. Rob is director and writer for soon to be released movie, "The Lords of Salem" in which Dee stars in. So now I have an autographed picture from a movie which hasn't been released yet. Pretty cool and that's why you go to Starfest.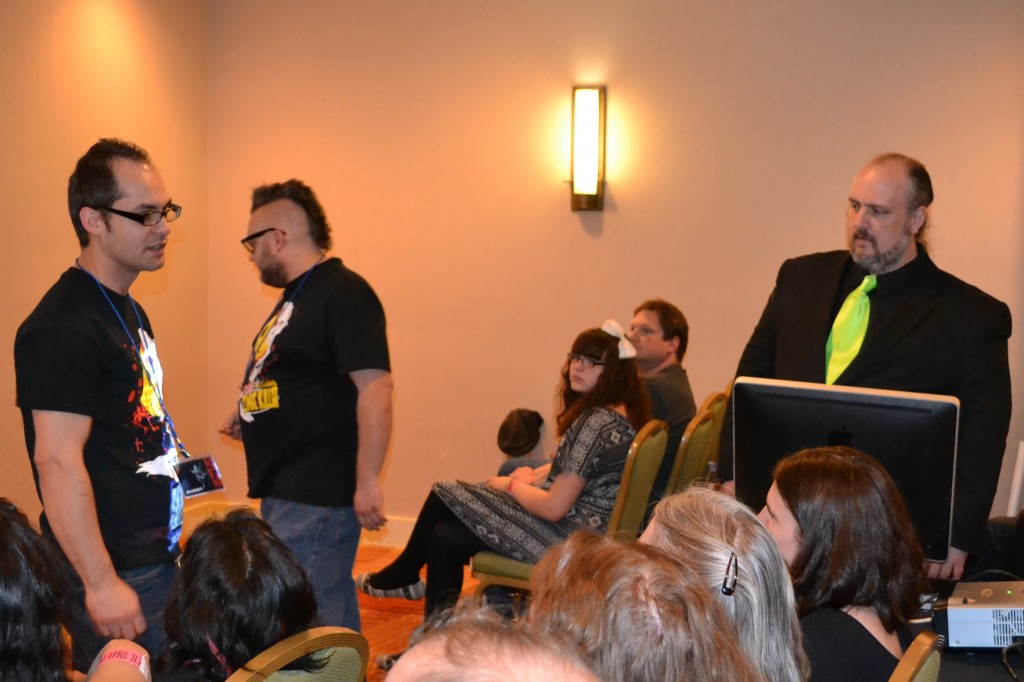 Richard Taylor and Zack Beins on left, Brian Bonner on right sporting the luminous tie.
What's better than going to Starfest 2012? Going to Starfest 2012 and watching the worst B movie I've ever seen about zombies. It was so bad, it was great! The film, "Atom the Amazing Zombie Killer", had everything you wanted in a good B movie horror film and more. The "brain" child of Richard Taylor and Zack Beins was filmed on a shoe string budget around $4000 in their home town of Denver. They were literally working on the audio the night before the showing to complete the film. Without falling into the "spoiler-alert" scenario about the story, let me just say it had everything from bowling, to bad acting, to one very basic CG effect. The majority of the effects were done with good old movie props, make-up, and ingenuity. The bad acting and the bad effects were an intentional delight comparison with the low-budget B movie horror films of the 1950's. I use to stay up late at night and watch those old movies hosted by the greats of the macobre, Sinister Seymour and Elvira.
One of my favorite parts of the film was when Bryan Bonner and Matthew Baxter from Rocky Mountain Paranormal Research Society were killed. I cheered! Out loud! Zombie-fied in the eyes of "Atom the Amazing Zombie Killer", Brian was halved and Baxter was 'blown" up. You'll have to see the show to appreciate their deaths. I had the opportunity to work with Bryan and Baxter previously, and even though people may not agree with some of their conclusions, you can never say they're not thorough and you can never say you didn't learn something from them. All kidding aside, they're nice guys, fun to work with, a pleasure to talk to, and I would definitely work with them again.
Starfest 2012 was an exciting experience to savor, from checking out the cool collectible toys in the vender section, to seeing and meeting the icons of science fiction, to continuously enjoying all the people in costume. Oh did I mention I got a cool Buckaroo Banzi patch for my Harley vest? Can't wait to get that puppy sewn on. Anyway, I'm already thinking about next years Starfest. In 2013 their invited guests are, Patrick Stewart, Stan Lee, Amanda Tapping, and Bruce Campbell. Yeah I know, from Star Trek to Stargate, to Stars of Marvel to just Stars, next year will be a must, unless we don't survive 2012.
Maybe the Avengers will save us, why else would Stan Lee agree to speak next year at Starfest?
Category: Chuck Zukowski, In the News, Miscellaneous, The Z-Files