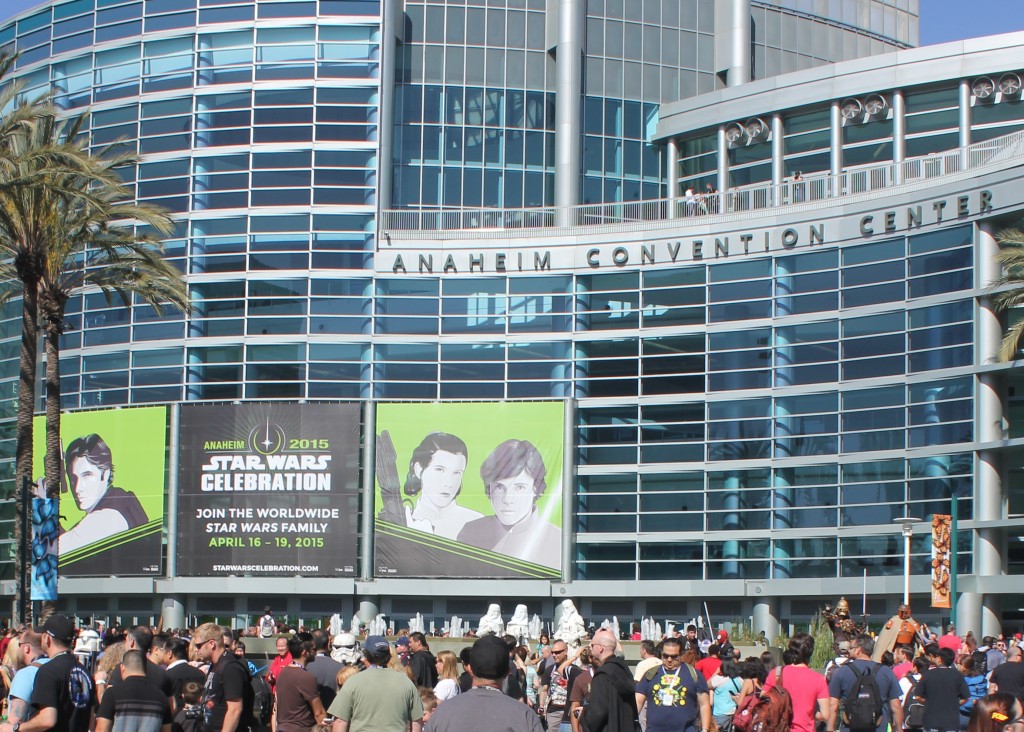 (All Pictures in this blog are courtesy of Parker Shannon.)
"The Star Wars Celebration is the ultimate fan experience focused on a galaxy far, far, away…"
For those of you who just landed on this planet from another galaxy and know nothing about Star Wars, then here it is in a "ufo NUT" shell.
Star Wars is considered by some to be a cowboy western movie staged in outer space. With multi-species of aliens scattered throughout the galaxy, and various types of robotic droids, many of the planet's members are part of the Galactic Empire. One key feature of the galaxy is an energy called the Force, which some can harness for good or for evil. Jedi's are members of a knightly order who use the force for good to guard peace and justice in the universe. But for every plus there must be a negative, and the Force's negative is the Dark Side. Those who harness the Dark Side are typically considered Sith's, Dark Jedi's, or Fallen Jedi's. They use the Dark Side of the Force for their own personal gain.
The first movie, "Star Wars" was released on May 25th, 1977 by 20th Century Fox. Under the direction of George Lucas, it quickly became an icon within American Culture and soon afterwards sequels were released.
– The Empire Strikes Back: May 21st, 1980
– Return of the Jedi: May 25th, 1983
– Star Wars Episode 1 – The Phantom Menace: May 19th, 1999
– Star Wars Episode 2 – Attack of the Clones: May 16th, 2002
– Star Wars Episode 3 – Revenge of the Sith: May 19th, 2005
– Star Wars – The Clone Wars: August 15th, 2008
Slated Future Releases
– Star Wars – The Force Awakens: December 18th, 2015
– Star Wars – Episode 8: May 26th, 2017
– Star Wars – Episode 9: 2019
So how does UFOlogy relate to Star Wars movies or conventions?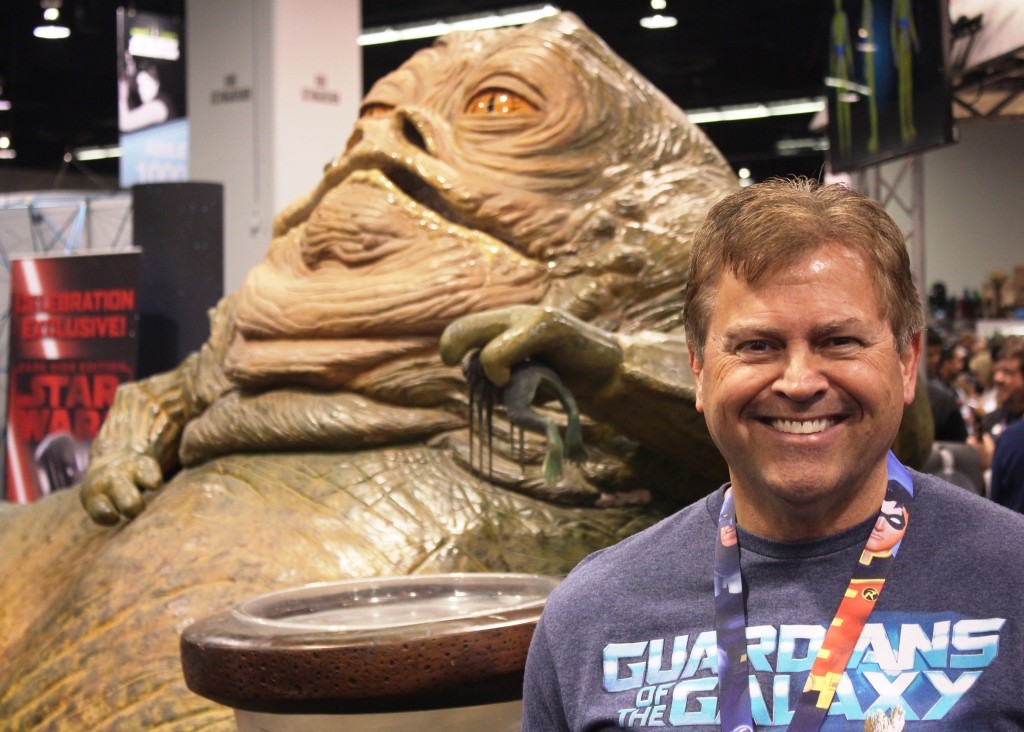 Well that's an easy one to answer, the people! I attended San Diego's Comic Con in 2013 and 2014 for the Science Channel. I sat on a panel and talked about real-life experiences associated with cattle mutilations, UFO sightings, and possible alien bases. Fans of science fiction in the audience were there to hear us on the panel talk about not so science fiction events. Real events that effected real people. So these conventions have slowly migrated from science fiction, leaning towards science fact, and the attendees were excited to hear about it. We had packed rooms at capacity both times!
So as a Star Wars fan (and Guardians of the Galaxy fan as seen on my t-shirt) I've also learned these movies are not just for entertainment anymore, but a way for people to wonder what it would be like to live in another galaxy. A galaxy that experiences the good and bad associated with every society. On this planet we learn to live with different races of people, with planets located in the Galactic Empire, they learn to live with different species of beings. Not so different in the eyes of a Cosplayer.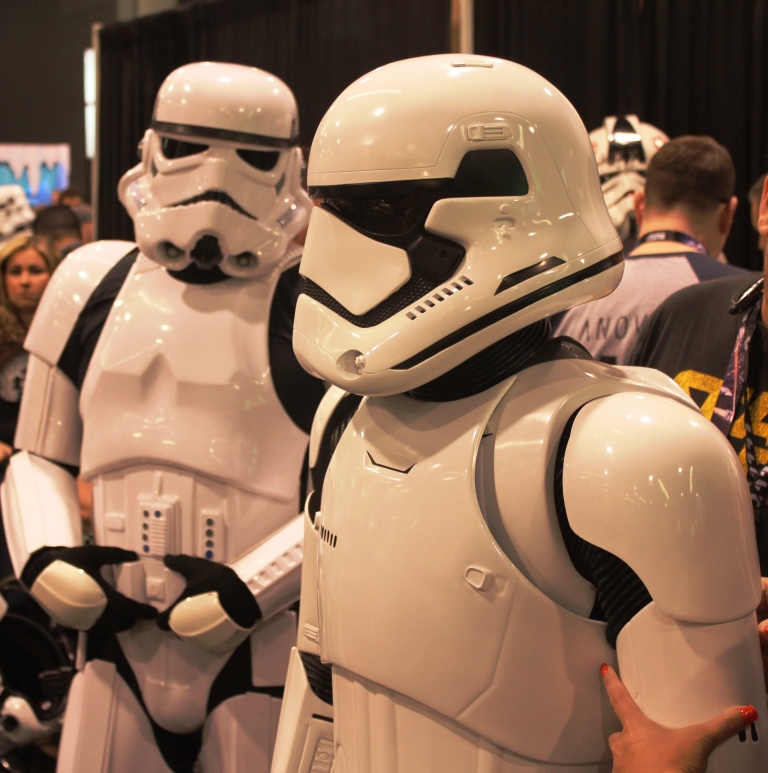 Cosplayers (or costume play) are fans who put in the extra effort to attend conventions dressed as their favorite movie character, some characters even before the movie is released. The picture above shows the uniform of an older version of a Stormtrooper in the back ground standing next to a newer version of the same Stormtrooper from a movie not yet released. Stormtroopers are soldiers, the main ground force of the Galactic Empire, and generally fight for the Dark Side. Based on the detail of these uniforms, the fans definitely do their homework, but it's all not just dressing up, there's more to it.
Anyone can dress-up, true Cosplayers are more serious. Not only do they make their own costumes, they make them right down to the tiniest detail. They also learn the mannerisms of the character they're portraying just like a professional actor does. And there's one more thing, one important thing, at some point, maybe just for a moment, they wonder if their character actually exists on another planet.
As a UFO investigator this is very important to me, because some people will just deny the possibility intelligent life could exist on another planet, but not the Star Wars fans, or any fan of science fiction movies. These "humans" are slightly different, intelligent, open minded, and not afraid to dream. They're not the type of people who live their life through tunnel vision goggles; And when the governments of this planet finally reveal to the public that intelligent life does exist outside our world, the Cosplayers, the fans, will have a head start on how to cope with it all. Hell, they'll probably lead the way!
If you ever get the chance to visit a Star Wars convention or any type of science fiction convention like, Comic Con, or StarFest, just don't go there for the merchandise because that's not the main draw, the main draw are the spectators; That's where the real fun is, looking at all the costumes and talking with all the Cosplayers. And if you have enough time to sit in on some panels, you might learn what's involved creating your favorite TV show or movie, or if I'm lecturing, UFOs! You'll always walk away learning something new, and if that wasn't enough, you might even get a chance to meet one or two of your favorite actors.
It's A Trap!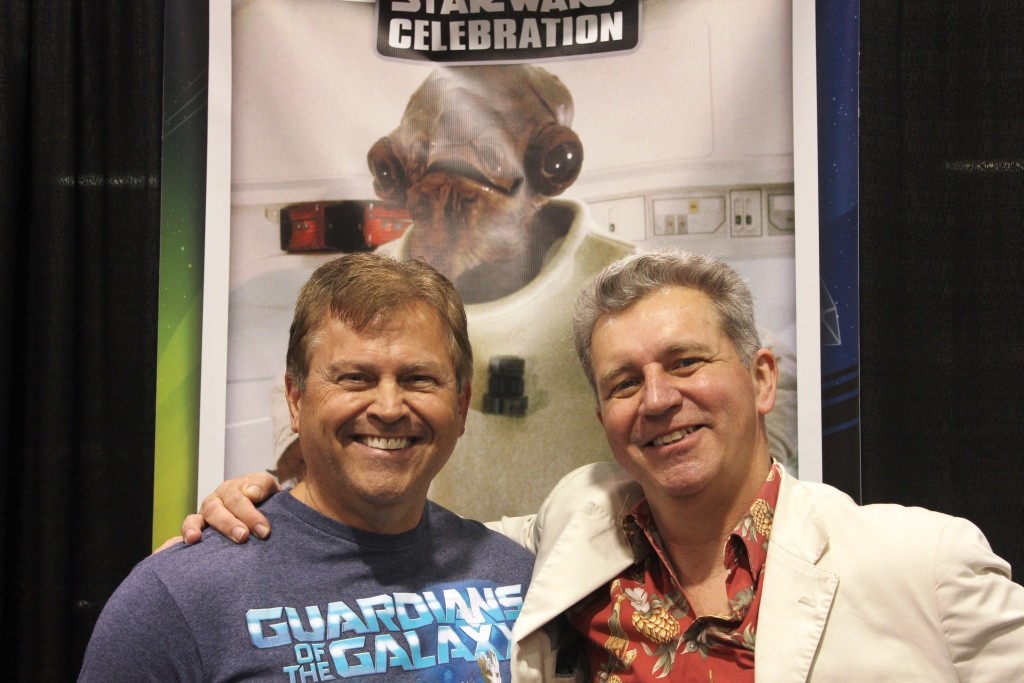 Me and actor/puppeteer Tim Rose who plays Admiral Ackbar, the Supreme Commander of all space forces for the Rebel Alliance.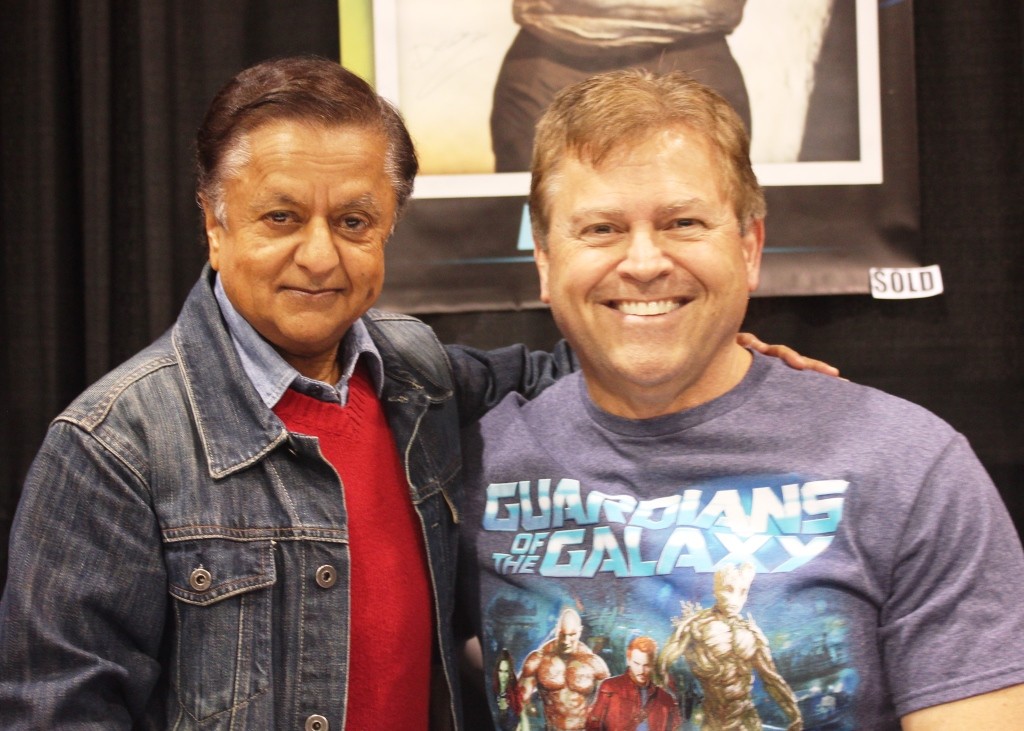 Me and actor Deep Roy.
This was especially fun for me, Deep Roy has played so many characters not only in the Star Wars movies, but other movies as well. In Star Wars he played Droopy McCool, an Ewok, and sometimes even played R2-D2 and Yoda! In the new Star Trek movies he played Engineer Scott's little side-kick, Keenser. You might also recognize him from Johnny Depp's version of Charlie and the Chocolate Factory, he played every Oompa-Loompa.
Anyone who goes to a Star Wars convention is a winner, there's so much to do there, so much to see and so much to learn, and just like the movie "A Christmas Story", you may just walk away with a Major Award! Be careful, it's French, "Fra-gee_lay".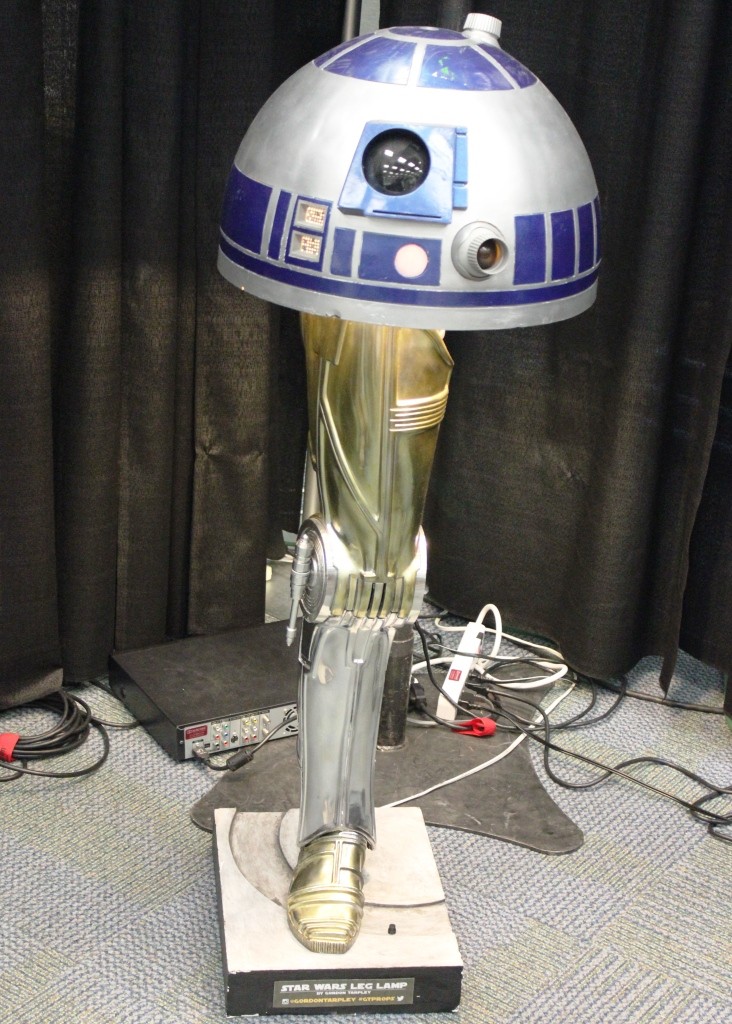 Star Wars Major Award
Category: In the News, The Z-Files