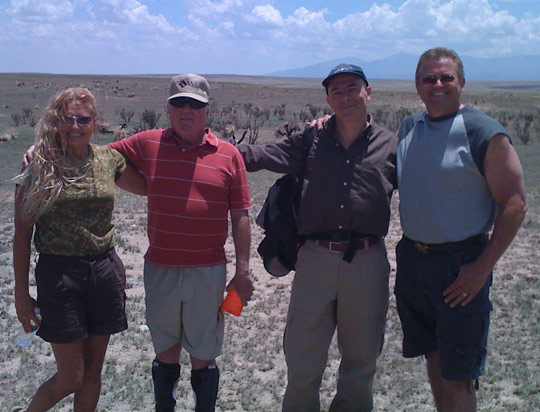 From left: Debbie Ziegelmeyer, Jesse Marcel Jr., Maurizio Baiata and Chuck Zukowski.
(Photo courtesy of www.openminds.tv)
The following link is an article written by Maurizio Baiata who is an investigative reporter, magazine editor and UFO researcher for Open Minds TV. In July of 2009, we took Maurizio and Jesse Marcel Jr. to the Roswell debris site where Jesse's father had gathered crashed alien wreckage for the Roswell Army Air Force Base back in July of 1947. It was our pleasure taking Jesse Marcel Jr. to tour the debris site for the first time. Not only was it awe inspiring for me, but at times I felt a calmness in the air as I watched Jessie reminisce the night his father woke him up and showed him strange debris which forever would change his life. Thank you Maurizio for sharing that moment with us and writing about it.
http://www.openminds.tv/no-sleep-%E2%80%98til-roswell/
Category: In the News, Media Appearances, Roswell Dig, The Z-Files